All Red Rake Gaming Casinos
Red Rake Gaming are a Spanish software company that goes back as far as 2011, deservedly taking their place as one of the most established and innovative slot providers around. They do slots, poker, and bingo plus some more of the classic stuff like Blackjack.
This company has a wide portfolio and even wider areas of specialization comparable only to the number of languages this company works in (more than 16, in fact) and the number of currencies it can handle (over a hundred), so we will go through all of its delightful features one by one. Show more
This company is constantly on the leading edge, providing new games with enviable frequency. You will likely know The Asp of Cleopatra and Super 10 Stars, which only recently came out, if you're watching Red Rake Gaming closely. New slots are constantly being released (same goes for poker and bingo). You will also read it in the news section that RR has just affiliated themselves with iSoftBet, constantly creating headlines. The news section is something you don't often see on the sites these days, and we like the fact that there is so much dedication to client's convenience.
Security
Red Rake Gaming works closely together with BMM Test Labs to ensure the highest standards of quality for all its clients. Make sure you always gamble responsibly and view all the project documentation before you begin playing. We have provided a selection of the best casinos around by carefully selecting providers and games only of the highest quality, but it never hurts to check you are safe. Please gamble responsibly.
Quality
Red Rake Gaming boasts "extraordinary graphics, realistic animations and spectacular audio that immerse the player into an unforgettable experience". We're still leaning toward our awesome Book of Ra series if we're talking about graphics, but this company deservedly has the rep for being one of the most thorough companies on the market.
There is a ready-to-use API which you will find convenient if you're going for the whole package. There is a complete back office too which allows the person in question to watch the players' experience and to make changes according to the situation, which is also an added benefit. Make sure you check out those Megaballs for extra excitement. There are also quite a few added features like wild balls and free balls and extra balls.
Insider Information
Catching a glimpse of it at ICE and also from an interview with Carlos Fernández Aguilar, Head of Business Development, we have found out more about the company's plans for the future: "Our main goals are to keep making great games and to keep growing in terms of making our games available to as many users as possible. Being more specific, I would say that we hope to close some content distribution deals that are already in advanced negotiations, to obtain the Maltese and UK supplier license in the next months and to grow our already existing HTML5 games portfolio."
Multi-platform compatibility
Red Rake gaming state that the experience on your phone or on the PC will indistinguishable, which is a interesting concept. We sure would love to see that on PCs, playing Crysis on Ultra settings on our old jackknife Nokias while waiting in line at Burger King.
Still, PC slots and mobile slots are pretty close in terms of functionality, so we are duly impressed by the concept. The fact that there is compatibility across so many devices means that you're less limited, in turn, meaning more clients, in turn meaning there is more money rolling around and that you are more likely to win. Put simply, this is a successful company that would make it a safe experience for you to join.
Likeability
This is a company that seems to have put a lot of user convenience, which we cannot not like. Their mission states: "We take great care with each of the aspects that contribute to creating slots capable of offering fun to the different types of slot machine users. Our wide offer of games encompasses different themes and mechanics, from video slots of adventures or fantastic themes with real-looking reels that transport the user to a casino. Our commitment is to continue working to make games that are more and more fun, realistic and attractive to the user." The games are very well-designed. We liked how much thought was put into the design and the technical side of things and the publicity. We felt especially nostalgic about the New York Nightlife slot for some reason and we are also quite fond of the Legendary Lucky Dragon.
A company that creates games so lifelike and interesting definitely deserves being treated with respect, so we say green light for Red Rake Gaming all the way. They are also very enthusiastic about localizing their games all across different markets: "In the case of 1xbet, they are one of the biggest Russian-speaking operators in the market. Our games have been Russian localized for years as we have them accessible in the social networks Odnoklassniki and Vkontakte, so we are delighted to release them in a real money operator like 1xbet." Check out our casinos in Spanish here.
Games
There are a few generous offers here with some of the games creating up to 1024 win lines plus some substantial multipliers. The staff here include well over 50 people with quite some experience in the industry and, as we already mentioned, some kickass API. There are remarkable slots features here that you may know like Caribbean Treasure,  Crypt of the Vampires, Forest Fairies, Hansel & Gretel, Heidi At The Oktoberfest, Little Red Riding Hood, Mega Stellar, Mysteries Of Egypt, Olympic Gods and Queens & Diamonds.
In Conclusion
There are many, many wild and wonderful things about this company that we think you so should check out if you are ready to go global.
We like the fact that the graphics here are decent, the interface seems to make sense, that there are plenty of languages the games come in, and that there are plenty of bonuses too (check out our awesome collection of bonuses here). There are the usual classics here to like Roulette, Blackjack, and Bingo as well as over a dozen video slots. We also like the fact that there is such a large target audience for Red Rake Gaming due to the fact that it comes in so many languages.
Coupled with the fact that as we said a lot has been invested into the API and back office functions this platform is very popular with the users so far. No wonder: with multiplatform compatibility, a half-global reach and very decent technical solutions there will be tons of demand for what this company has to offer.
As always, we ask you to take gambling seriously and act cool-headed. If you encounter any issues, let us know. Show less
<!— [bonustable tag_soft='Red Rake Gaming' bonus='priv' num=9999 orderby='rating_general' sort='desc' par1='play' filter='1' ] —>
Country: United States of America
| # | Online casino | AffGambler Rating | Welcome bonus | Reviews | |
| --- | --- | --- | --- | --- | --- |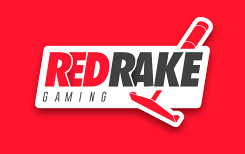 Best Casino Bonuses
Here, the best bonuses from online casinos are collected, which are conveniently divided into different categories
Software License from Online Casino
Review of the best providers of online casino games.