All Bally Wulff Casinos
Bally Wulff Games & Entertainment GmbH is another name you don't see every day, although it's an improvement from Monarch Beteiligungs GmbH, which is what it was called before. As you probably guessed already, it comes from Germany and it used to be a subsidiary of Bally Technologies, Inc. It sounds like something out of our favorite ever cartoon about Will. E. Coyote and the Roadrunner, and we start immediately recalling the beautiful, crispy and brightly colored world of Acme explosives, Sam the Sheepdog and bleating sheep.
This is probably one of the best names in the business for its association with all things Disney. We liked Hero's Quest and The Land of Heroes, too, despite their cartoony and sometimes even too simplistic graphics and gameplay (check out our awesome software providers if you're looking for more edge-of-the-seat kind of stuff). This is the company that created laser beam games for Sega and introduced the first jackpots ever to Germany.  Show more
The Story
The company itself goes back the longest out of everyone, well, ever. Bally Wulff started back in the 1950s when all of us along with our administration were just a concept.
Bally Wulff, named after its founder, Gunter Wulff, started off making physical machines for casinos (but we're sure if the Internet existed back in 1950 they would be the first to make slots too). You'll  know their Rotomat series if you're  a fan of hardcore, old school gaming that doesn't involve 3D touchscreens, eating porridge, mirror neurons, and all of that new-age, Avatar, tree-hugging nonsense that was invented later than 1950. Before anyone else pretty much and certainly before Microgaming and Playtech, Bally Wulff was making pinball machines, karaoke machines, health club equipment, pool tables and darts equipment, fitness bracelets, and God knows what else. If we're talking established traditions of quality you won't find anything better than this. By the way, if you're looking for quality, check out our online casino ranking system: it was designed to separate the good from the best.
What they can do
You know you can trust Germans for meticulous design and awesomely efficient mechanisms, like BMW and, well, a bunch of other things – like Schwarzenegger. Ok, ok, we know he was Austrian, but reliable and exceptionally well-performing things just tend to come from that general direction. Bally Wulff is one of those awesome companies that can specialize in a few different things at once, and they certainly once again set the standard for decent quality in 2007 when they branched out and became part of Schmidt group.
Bally Wulff work with EU Casino and SlotsMagic, Blue Lions Casino and many more businesses across the board.  Some of their awesome title you probably know even if you're not a hardcore fan are Ancient Riches Casino, Sticky Diamonds, Fancy Fruits, Asena, Beautiful Nature, Black Beauty, Book Of Crazy Chicken, Book of Romeo & Julia, Book of the Ages, Books & Bulls and Crystal Ball and Explodiac plus plenty of gamble features.
Best things about it
Bally Wulff became part of Bally in 1972 when all the awesome things began happening. It now belongs to the Schmidt group, which is one of the biggest IT services provider out there – and yet still they also do e-gaming, real estate, and fitness. Bally Wulff Foundation works with underprivileged kids and artists and provides them with bikes, laptops and games equipment.
We highly recommend this company for not only its charity work, the range of products it provides, and its fantastic diversity, but also for its stunning uptime and remarkable product quality. Show less
<!— [bonustable tag_soft='Bally Wulff' bonus='priv' num=9999 orderby='rating_general' sort='desc' par1='play' filter='1' ] —>
Country: United States of America
| # | Online casino | AffGambler Rating | Welcome bonus | Reviews | |
| --- | --- | --- | --- | --- | --- |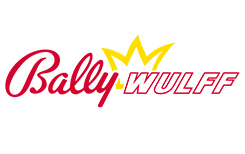 Best Casino Bonuses
Here, the best bonuses from online casinos are collected, which are conveniently divided into different categories
Software License from Online Casino
Review of the best providers of online casino games.