All Fuga Gaming Casinos
Short for Future of Gaming, very well-named Fuga Gaming is a software provider with a wide array of services, a reasonable AWP, and a God-given talent for nifty design. Just to be clear, we're not talking CS: Go here. AWP, in case you don't know already, is (yes, also the best sniper rifle ever) a system (Amusement With Prizes) that relies mostly on pure luck to award the player.
There are plenty of SWP (not to be confused with AVP: Alien Versus Predator) games, which reward Skills with prizes, but this company mostly favors random chances. And that's the way it should be. Still not as mind-numbingly awesome as you-know-who, but still kicking ass. Show more
What have they got?
With HQ in London, Fuga Gaming has pretty much everything you could wish for to create a solid presence for itself in the world of i-gaming. They are good friends with Odobo gaming and UMA Premium group, which as far as we are concerned are all recommendation you need. They have already set the standard by creating over 80 slots throughout their 23 years of uptime in the world of online gaming.
A solid old-schooler, this company has done very well for themselves in terms of land-based gaming, and in the short term it has been dealing with online games it has already created a few quality slots. Most of them have been made for the Italian online games market, but they are also very popular around the world.
What makes them unique?
Fuga Gaming has a penchant for 5-reel video slots with some kickass 3D so we heartily recommend the graphics.
The fact that there are plenty of generous bonuses check out our bonus collection here)   means you will definitely do well if you choose this company. Some of their best slots are Fruit-O-Matic, Just a Game, Kiss of Luck, Ocean's Secret, and Witchcraft, although you may not have heard much about them since the company has not been around very long.
Fuga Gaming has some of the most seasoned staff around with a lot of experience. They do brick and mortar game conversion as well as mobile gaming, and provide a few different types of services, ranging from simple to complex solutions. Here it is, directly from the source:
"Development team's creativity goes above and beyond in creating complex products such as multiplayer table games, jackpot systems, gaming platforms, SDKs, communication protocols and peripheral drivers."
With further plans of expanding into Europe and Australia, this remarkable little service is genuinely impressive. If you're an investor, we would definitely say this company has a great future in gaming. And not just in terms of influence but also in terms of technical skills.
In addition to the standard options it providers, there are tailor-made opportunities to do with the geographical and jurisdictional limitations some countries may have, plus multiple gaming and an impressive in-house-made jackpot system. With this much goodness coming out of just one company, we are thrilled we can make the pleasure of your and their acquaintance – and we are more than sure we will be hearing more from Fuga Gaming (not to be confused with Fugu fish). Show less
<!— [bonustable tag_soft='Fuga Gaming' bonus='priv' num=9999 orderby='rating_general' sort='desc' par1='play' filter='1' ] —>
Country: United States of America
| # | Online casino | AffGambler Rating | Welcome bonus | Reviews | |
| --- | --- | --- | --- | --- | --- |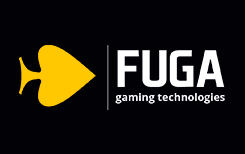 Best Casino Bonuses
Here, the best bonuses from online casinos are collected, which are conveniently divided into different categories
Software License from Online Casino
Review of the best providers of online casino games.