All Aberrant Casinos
Ontario-based Aberrant Software Inc is one of the most interesting and, well, aberrant companies out there. In a good sense too, since most of the time deviation from the normal considered to be risky. Not in this case though: ever since its creation in 2010 Aberrant Software has been using their location in the heart of one of the most developed countries around to get good at their craft.
They are now using licensed and patented state-of-the-art software compliant with any OS and in a variety of formats. They mainly do bingo, which is the reason why they are quite popular in the bingo world on resources like Utopia Bingo and Maria Bingo,  although there are scratch cards and video poker in their repertoire. But let us go through all of it with due diligence. Show more
Who they are
Aberrant Software Inc is a company with headquarters in Ontario, Canada and they specialize mostly in bingo, even though they are quite good at providing premium solutions for some of the best companies out there that work with Keno, match, Hi-Lo, slots, and other games. Far from being a one-trick pony, Aberrant Gaming has a few years behind the steering wheel, from 8 to 10 depending on what you count as experience, and are able to provide a decent quality of software across the board to be accepted at some of the more popular bingo sites. This company is owned privately, so little is known exactly about their practices, but we are impressed by what we see (you will have heard about Unibet, no doubt, which is one of the casinos they work with. Now, this guy may not be huge like Microgaming but even Google, Microsoft, and Microgaming started off small and specialized, right?
What they offer
This company has all the qualities sit needs to succeed: powerful friends, quality software, and uniqueness. They also do quite a lot of work on accessibility, which is, we think, a very wise way of expanding. The wider the target audience, the better. It's kind of an easy was of gaining more ground with investing little effort, so: good thinking for placing emphasis on multi-currency (check out our currency options) and multi-language support (also take a look at the languages we offer). Here's what they have to say about it themselves:
"Aberrant Software Inc. provides enterprise level software and support services to businesses who wish to capture the global marketplace. Aberrant Software Inc. is considered to be the innovator and leader in the fields of multi-language and multi-currency support."
They are also no short of ambition, it seems, but they do have something to back it up with, and in their field they are actually very good, working with some of the most successful companies out there. "The Aberrant Gaming Suite comprises a turn-key online solution which includes a wide variety of games such as: multi-player and single player bingo (75 ball, 80 ball, 90 ball and Variant styles) along with an assortment of soft games such as Slot Machines, Instant Keno, Video Poker, Hi-lo, Match and Scratch tickets." The site, however, looks like a cat walked across the keyboard when WordPress was open, giving us the impression it was created entirely by accident. Still, there is truth to that old saying that good things don't need advertising: quality speaks for itself.
There are also more advanced features if you want to explore the mechanics of it even further: "All of our software is developed in-house and provides each user with a unique gaming experience. Our Back-Office System supplies operators with a wide range of real-time marketing and financial reporting. Similarly, it offers site operators configuration controls and utilities to enable total customization of their gaming suite."
With partners like Utopia Bingo, Trendy Bingo, Best Bingo, and Maria bingo and with a suite of products in a few areas as well as turn-key solutions and an elegant back office we think there is way more here than is required for a successful business. We like the standards of quality, a modest interface, and a through-through website.
Finally
Aberrant Gaming has a lot of potentials, we think, if they decide for sure whether they want to stay with the bingo approach and become leaders in the field or diversify and start producing (maybe a few) but quality slots. They certainly have the thoroughness and intelligence to come up with breakthrough stuff, so we wish them every success in the future. With their relatively short time in the field, they have managed to create a rather unique and memorable product, so keep track of future releases from these guys. We are sure they are bound to produce something even more delightful than those Hamilton, Ontario main street maple syrup pancakes (though some of us are sure that's not possible). If anything, you know where to find us. Show less
<!— [bonustable tag_soft='Aberrant' bonus='priv' num=9999 orderby='rating_general' sort='desc' par1='play' filter='1' ] —>
Country: United States of America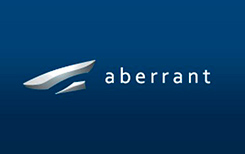 Best Casino Bonuses
Here, the best bonuses from online casinos are collected, which are conveniently divided into different categories
Software License from Online Casino
Review of the best providers of online casino games.