Best Maestro Casinos
Providing financial services is similar to conducting an orchestra. You need to strive for perfection to become successful. As one of the premium payment processors, Maestro, without a doubt, deserves its name. Smooth services, excellent data protection and world wide acceptance are the factors making this option attractive for many users, including iGaming enthusiasts.
Sure, this brand isn't as popular as some other processors, but reliability of its services is out of question considering the company is owned by one of two ultimate industry leaders, MasterCard. The history of Maestro dates back to 1990. Great job has been done since its foundation as the brand turned into a global solution with millions of merchandise accepting it. This debit card is also used to fund accounts at many online casinos. Show more
Maestro Solutions
One important thing to keep in mind is Maestro brand doesn't provide credit solutions. Preferring debit option means punters are limited to their own money and borrowing isn't available to them. For some players that would be a good option as this is a sort of barrier keeping them from going into debt.
Even more control over gambling spending will get the owners of prepaid Maestro. Unlike debit card, it isn't linked to a bank account and funds need to be pre-loaded. It's impossible to borrow if you have insufficient funds to cover the transaction. Maestro prepaid cards look absolutely the same as standard debit/credit cards and can be used even by those who don't own a bank account.
How to Use Maestro
Whether it's a debit or prepaid solution, the process of paying is the same and very simple. Once you proceed to making a deposit at a casino and select the corresponding banking option, you'll be asked to enter just your card number and the desired deposit amount. Considering you have enough money, bank approves the transaction and money show up on your gaming balance.
However, casinos sometimes can block the transaction based on your country of residence. It's the common problem for US punters as online gambling is mostly prohibited in their country. Also make sure the selected operator accepts Maestro because that might be the reason of a failed deposit.
If that's your first experience making casino deposit, don't worry. Using Maestro at casino is the same as using it anywhere else online. Moreover, iGaming operators usually make it obvious what information to enter and which buttons to push. Good online casinos won't leave its players by themselves, so when feeling unsure of what to do, you can contact casino customer support.
While some online casinos can offer Maestro withdrawals, others don't. Even though this option is listed among banking options, it might not be allowed for cashing out from casinos. Some operators just fail to explicitly inform their customers of this rule. So, it's better to address this issue to customer support prior to depositing, if you want to be able to withdraw using this method.
Many online gamblers have already got Maestro cards making this banking option instantly available. Even if you don't own one, you can apply for it at multiple banks and soon will have it issued. Whether it's a debit or prepaid card, it's extremely simple to use them. There are just few intuitive steps to make. Punters which have never had experience using this type of payment solution will be able to deposit at online casino without any problem.
One of the strongest reasons to use Maestro is security of the system. You don't want to get your money lost to some cyber criminals, and this brand is famous for keeping your money and data safe. SecureCode feature adds extra layer of protection. By activating this feature, you make it impossible to authorize any transaction without a code that no one except you knows.
Despite Maestro transactions are quite fast, sometimes it's better to connect a card to other payment systems to ensure instant deposits and wider acceptance. Skrill in this case is a perfect choice since PayPal can't be used for gambling transactions. By doing that, you avoid another possible problem, which is being unable to withdraw money.
Maestro Casinos
This brand isn't the most favorite option at online casinos. But there are decent numbers of operators accepting it. They are operators which can target any local or international market as this payment option is available in around one hundred countries. Show less
Country: United States of America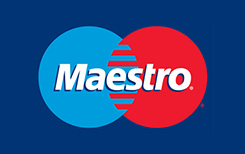 Best Casino Bonuses
Here, the best bonuses from online casinos are collected, which are conveniently divided into different categories.
Casino Banking Methods
Reviews of the most popular payment systems for making money transactions in online casinos.