Online Casinos With iDeal
iDeal is an online banking from Netherlands that works in the industry since 2005, cooperating with main 9 Dutch banks (ABN AMRO, ASN Bank, Rabobank, SNS Bank, RegioBank, ING Bank, Triodos Bank, Van Lanschot Bankers, and Knab).
And if in the early days iDEAL was only local payment solution, and only Dutch residents were able to use it online, nowadays it's modern European company, competing with the biggest payment systems on the highest level. If comparing with other major European payment options, we must mention Euteller, Giropay, Bancontact and others. Show more
iDeal Summary
For the 13 years of its active development iDEAL was the most popular online banking in Netherlands. But with the rising popularity of internet, comparing 2006 and 2013, for example, company's amount of annual operations changed tremendously – from 4.4 million to 142.5 million. And today, in 2017, more than 13 million euros is being processed by the iDEAL in transactions. More than 100 000 online stores and other websites allow their users to pay via iDEAL.
As it happens with any other service in a list before, any major European online payment method, iDEAL is almost the same as direct online banking. So if you want to use the service, you have to get a regular bank account, and not at any bank you want, but at one of 8 Dutch banks mentioned beforein the list. After you create a normal active bank account, you can connect it to your iDEAL.
As for the technologies, iDEAL is not a payment system itself, it is the medium that help customers to pay online with regular banking accounts. You don't have to register an account in iDEAL, you just need to have a banking account. All the banks mentioned before have online banking protocols that can be linked to iDEAL, so you'll have no problem with finding ways to pay for goods and services.
The procedure of creating iDEAL payments is as simple as that, you just need to follow this few steps:
Open the site where you want to pay with iDEAL and in the checkout page look for iDEAL in a list of payment methods;
You will get a new pop-up window where you will be asked to choose the bank that is connected to your iDEAL;
You must choose the bank and next you will automatically follow to the login page of your internet banking;
After you have successfully logged in and finished all the necessary steps to approve the payment, the transfer will be proceeded and you will end up where you started, at the site of the seller.
All iDEAL transfers are carried out in a blink of an eye, and if, for example, you deposit money to your online casino account, you just approve the payment and at the same moment you are able to play, your money are sent.
Usually you will know that your transaction was successful from the e-mail that you and the seller will receive shortly after the payment is finished.
The safety of your payments is provided with authentication code. It is created specifically for every separate money transaction.
iDEAL is a modern payment system that provides it customers with the ability to pay on the go – on the mobile devices, smartphones, tablets, etc. You must be aware that after the approval there is a high possibility that you will not be able to cancel the transaction. That is why sellers and banks don't charge extra money for services. Right after you agreed and send money to another person, it's officially closed operation and you can not change your mind. The only exception, of course, is fraud actions and other moments that require security check. In such cases your money can be returned.
You can not only pay online with iDEAL, but also to transfer money to Visa or MasterCard cards, and deposit funds to accounts of payment systems like Skrill. iDEAL provides you with instant and secured money transfers, you always stay anonymous and don't have to pay extra fees.
Online casinos and iDeal: how to deposit?
The process of depositing in iDEAL does not differ from any other online payment system. You must enter the online store you like, and take some actions, as it was described before. You select iDEAL as a preferred payment option you will follow automatically to your regular online bank interface. There you approve the payment, and it's done. Your money will be instantly send to the seller of the product or service you want to buy, or deposited to your online account absolutely for free, without any fees.
Online casinos and giropay: how to withdraw?
Even though iDEAL is one of the top payment systems in Europe, still it does not provide its clients with withdrawal option. It may be a key factor for those who looks for ideal way to pay in online casinos and to withdraw winnings. Soo you better try your luck with some alternative method.
Pros and cons of using iDeal
That's not a surprise, that iDEAL has a lot of advantages if you choose to get your money into your online casino this way:
iDEAL transaction gives you absolute security and safety both for your money and your sensitive data. iDEAL cooperates with top major European banks, so the level of data safety is the same as in top financial institutions.
The speed of transactions is super-fast. You can actually press OK button, approving the payment, and at the same moment the receiver of your transfer will get the funds on his account.
All transactions are free of charge, that is rare and so players can consider this moment as a huge benefit – you get what you send, without additional fees.
The absolute anonymity gives you guarantee that no sensitive data will be able to the employees of online casino.
You don't have to register new account for iDEAL to use it. Literally every person with active bank account is able to pay online via iDEAL (but only in euros and only those customers, who have accounts in one of 9 major Netherland's banks);
You can also relocate your money with iDEAL, you can send funds to your credit cards, or even change money for vouchers and pre-paid debit cards;
Since the service provides its customers mobile version of iDEAL, you can pay online whenever you want, in a bus, in park, literally everywhere, the only thing you need is your portable device – smartphone or tablet..
iDeal can be "ideal" only when you read it, but actual service have several disadvantages, or at least points that are worth considering:
If you have no account at Dutch bank, you will not be able to pay with iDEAL, so its limited service in terms of location;
As it often happens with online bankings, iDEAL clients can only deposit to online casinos, without the possibility to withdraw winnings the same way, which may seem very inconvenient for a lot of players;
iDEAL works by the code system, and to make a payment you have to work with tokens, that can take some time, and if you are in hurry, better choose another option for depositing;
You can't cancel the payment after you clicked Approve on the site of your online banking, so be careful checking all the information about your payment.
What casinos accept iDeal?
Even a few years ago iDEAL, being as popular as today, was a rare guest in the lists of payment methods at online casinos. Only several Dutch casinos presented their customers the ability to deposit with iDEAL. But today situation changed since there are a lot more new casinos and to stay on top they must please every customer. Every day new casinos from all over the Europe add iDEAL to their functional. So if you decided to stay with iDEAL, check your casino's payments page before creating a transaction. Show less
Country: United States of America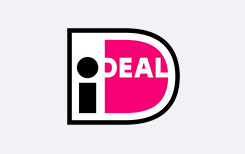 Best Casino Bonuses
Here, the best bonuses from online casinos are collected, which are conveniently divided into different categories.
Casino Banking Methods
Reviews of the most popular payment systems for making money transactions in online casinos.