Best Sporopay Casinos
Cyber criminals have shown what they are capable of doing when a range of big and powerful companies has become victims of their attacks. Now people are more concerned about online security, especially when it comes to transferring money or sharing sensitive information. Sporopay is one of the services that have built an extra layer of protection between your money and cyber criminals.
Sporopay is a website designed by the bank Slovenska Sporitelna for its customers. It processes transactions without exposing user's bank account details. The service is available exclusively to the bank customers. It's simple, secure and convenient. Show more
The bank itself and all of its services are highly reliable. Slovenska Sporitelna is a Slovakian financial institution with a long history. Officially it was established in the mid 20th century, but actually the bank has been there for over one hundred years. You can trust the bank and its Sporopay internet banking without a slightest doubt.
How to Use Sporopay
If you aren't using Slovenska Sporitelna services, there's no way to enjoy the benefits of Sporopay. Therefore, first thing to do is to join the bank. Then you need to activate internetbanking feature. This can be done at any bank office.
When activating the feature, you get a user name and a code. There are also three tools for additional security, and customers are free to choose which one they would like to use. One is a GRID Card with a code that you need to provide when approving transactions.
Another option is using Digital Secure Key (DSK). That's a fantastic solution. Customers would get a special device that generates new codes at your request. It would be impossible for anyone to make a single transaction without DSK. If you prefer something less complicated, opt for SMS-key. The bank will send SMS informing you of a verification code. Don't wait for too long to enter a code because it would be valid for five minutes.
Verification codes, customers receive using one of the above methods, will be required when a purchase is made. The information buyers enter will be first checked by a bank to identify customers and protect their account from cyber criminals.
To buy casino credits, you would need to go to a selected iGaming website, choose Sporopay and enter transaction details. After that Sporopay will ask you to fill-in the form and provide verification code. This is how Sporopay users log into their accounts. Once signed in, they need to authorize the transaction and after that will be returned to casino website.
Slovenska Sporitelna doesn't charge its customers for using Sporopay. That's why it's a perfect way to shop online. There's no reason to make a direct bank transfer instead of utilizing Sporopay. Wire transfer is a very slow option. Look at the description of this banking option on casino websites. You'll probably see that such deposits usually 3-5 business days. Why would you ever want to wait for so long if you have Sporopay.
Advantages
The biggest advantage of Sporopay is security. If you share your bank account details with a merchant or gambling website for the first time, you cannot be confident that they won't abuse your trust. That's unnecessary risk because Sporopay is there to hide your sensitive data from anyone. Moreover, the bank has introduced verification codes that can be generated for each transaction and is requested along with standard logins and passwords.
This payment method is also very convenient. You don't have to wait for long before your gambling balance is topped up. Those who are tired of transaction or service fees would be happy to know Sporopay doesn't charge a dime for making payments.
On top of that, the service is fast. Even when the bank checks login information and verification code, it just takes seconds to complete the operation. And when you pay, money immediately show up on your gaming balance.
Sporopay users have access to excellent support. You can reach support operators using phone number, online chat, email and even Skype. Or you can ask for a call back, specifying the most convenient time to contact you.
Disadvantages
Sporopay can't be used to cash out casino winnings. That's probably the only disadvantage the service has. But you can always choose another banking method to withdraw money from casino.
Sporopay Casinos
Slovenska Sporitelna is a Slovakian bank. Therefore, its services are mostly popular with people in Slovakia. You obviously have better chances to find Sporopay casinos if you select those targeting Slovakian market. There aren't many of them though. Show less
Country: United States of America
| # | Online casino | AffGambler Rating | Welcome bonus | Reviews | |
| --- | --- | --- | --- | --- | --- |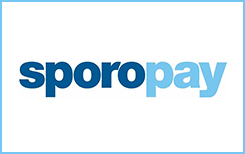 Best Casino Bonuses
Here, the best bonuses from online casinos are collected, which are conveniently divided into different categories.
Casino Banking Methods
Reviews of the most popular payment systems for making money transactions in online casinos.