Online Casinos With TrustPay
TrustPay service can be used as medium in payments, so you can actually choose what method to use – VISA\MASTERCARD credit cards, your online banking service, PAYSAFECARD or TRUSTPAY wallet. And any of the methods proposed differs in terms of procedure of payment.
If you want to use TrustPay, you must provide the currency and your e-mail, after that you will have to actually select one of the methods mentioned before. All this process happens of the website where you want to pay for some service or product. Show more
When you pay with credit card, you will see a new TrustPage window with the field that need to be filled – enter your credit card number, date of expire and CVV code.
When you decide to pay with some online banking service, you will be redirected to a website with all the data about your TrustPay account. This information you must use for successful online transaction. In some countries, when you choose TrustPay on a checkout page, you can also select the bank among several items, this bank must be connected with TrustPay. You select your bank and are automatically redirected to the page where you enter login and password. Right after that you can use your online banking as you want.
If you choose Paysafecard, you will be redirected to a new tab with a field that you must fill with your PIN code. But this way of payment is limited and only citizens of several countries have access to it.
When you select TrustPay as your payment method, you work with web wallet. Registration is simple, you also should deposit some cash to your newly created account. For the successful online payment you must provide personal ID code and your payments password, that only you know.
Whatever method you choose, you don't have to pay any cent more that you are going to spend since TrustPay doesn't charge its customers with unnecessary extra fees. All the transactions are fast and highly secured. Any piece of sensitive information provided by you will be safely shielded by the latest online encryption systems so no third party gets access to your money or information.
Online Casinos And Trustpay: How To Deposit?
To pay in online casino, to deposit money to your account you can with any of methods mentioned above. But be aware, that while some casinos provide you all 4 ways, some casinos still will limit your payment abilities with only credit cards payments to only with online banking.
When you follow all the steps provided in the instruction, you will successfully create a payment, and your funds will be able for usage right after you click SEND. Depositing your account with TrustPay is quite convenient way to play favorite slots as soon as possible.
Online Casinos And Trustpay: How To Withdraw?
With the range of different options that TrustPay provides its clients, casinos still won't allow you to withdraw via this payment method. You will not find it in a list of withdrawing methods in any modern casino.
Pros And Cons Of Using Trustpay
TrustPay is hugely popular nowadays, especially among casino players, and there are several reasons for this popularity:
TrustPay give its customers the same level of data security as any major financial institution, so TrustPay clients are in absolute safety because of the top encryption system;
Any payment, any TrustPay transaction is carried out in a blink of an eye, you literally don't have to wait any second longer, you pay – you play, right away;
Whatever feature of TrustPay you are using, you can be sure that your name or other personal data won't become open for the recipient of your payment, the service is absolutely anonymous;
To use a TrustPay, you don't have to waste time for registration;
TrustPay is free of charge, you will not pay any extra money for the service.
But some players pay attention to several disadvantages, only two, actually:
To be able to pay with TrustPay you must be a citizen of a limited range of countries and to have a bank account or at least a credit card, that can be challenging for a lot of international gambling players;
TrustPay is not a two way street, you can only fund your account with this service, but to take winnings out of casino you have to look for other opportunities.
What Casinos Accept Trustpay?
TrustPay is one of the payment methods that can be found almost in every casino's arsenal – but note that it does not mean you can withdraw money via TrustPay, this service is only for depositing cash to your online casino account. Show less
Country: United States of America
| # | Online casino | AffGambler Rating | Welcome bonus | Reviews | |
| --- | --- | --- | --- | --- | --- |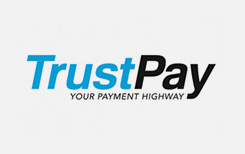 Best Casino Bonuses
Here, the best bonuses from online casinos are collected, which are conveniently divided into different categories.
Casino Banking Methods
Reviews of the most popular payment systems for making money transactions in online casinos.