Online Casinos With GiroPay
Giropay is a German company that focuses on online banking. It's working in the industry of online payments since 2006 with headquarters in Germany. This direct online banking cooperates with more than 1500 banks from Germany and Austria, and the total amount of its clients is as high as 17 000 000 people.
The volume of transactions made each month is extremely huge – about a million money transfers Giropay carries out monthly. Sure, that's not as much as Sofort proceed – Sofort is the most popular payment system in Germany and works with more than two million payments monthly (but this number also includes several other countries), but nevertheless Giropay proudly can be named the second most popular German service. Show more
GiroPay Summary
When you decide to make a payment online with Giropay, you just follow the regular process as it always happens with services in this field.
When you browse some online store on any other website and want to buy some product or pay for a service, or just deposit money to your account, follow to the page for payments and select Giropay there. Next, you must choose your bank that is connected to your Giropay account. You will have to enter your login and password.
You will see all the information about your payment, check it carefully, to be sure you are sending money to the right website. Next, you will receive a code to approve the payment, some banks send it via e-mail, but most often you will get it in SMS message. Enter this confirmation code and your payment will be authorized by the bank. A person who sells product or service will receive your cash at the same moment you click the button. Finally, you will be back at the website with the approved payment data on your screen..
All the procedure is carried our with the help of modern security protocols and data safety standards, you don't need to enter or to send some third parties your card numbers and sensitive data. Everything is being done immediately and anonymously.
You can send any amount, but the limit is 5000 euros. Also note that once you've send your money, you can't cancel this operation, so check the details carefully in advance to prevent mistakes.
Online casinos and GiroPay: how to deposit?
When you enter your favorite online casino, look for Giropay in a list of online payment systems to deposit with. You will then be redirected to the bank account and will have to follow every step that was described before.
You go to the page of your regular bank, enter the amount, fill some information, receive the code via e-mail or SMS message and the bank sends your funds right away to your online casino account. That means you can already use your costs and play slots.
Online casinos and GiroPay: how to withdraw?
The withdrawing option is available, but it depends on the bank you connected to the Giropay account. Some banks accept withdrawals and some don't, so you better try asking support service of the casino about your personal situation.
Pros and cons of using GiroPay
Giropay carries out more than a million operations a month, and there are several reasons of such popularity:
This payment solution is safe and secured with latest developments in online payments industry, with best encryption technologies, etc.
The speed of transactions is just about a second, so once you click to pay, you can already use the money.
The process of connection the bank and Giropay is simple, you don't have to register and enter pages of information, it's time-saving system.
When you pay in a casino you can be sure no one will receive your data since it's secured by anonymity protocols, no other party can receive an access to your information.
However, it's better to point out several disadvantages, because there is no ideal payment system, especially when we talk about direct online banking:
Mostly online casino players look for payment system that is cheaper. It's because some payments solutions charge too much for the service. Giropay is not the most expensive online banking, but still it charges about 1% from each transaction.
You can pay in casinos with Giropay only if you are a citizen of Germany or Austria, that is the only way. But for everyone from these two countries Giropay is almost perfect method to deposit casinos, due to a large number of major banks that cooperate with Giropay.
What casinos accept GiroPay?
Giropay is a must-have payment method for every casino from Germany and Austria, so it's not hard to find it in a list of payment options. If you're not sure, you can read the FAQ of your casino or write\call to the client service with the question. Show less
Country: United States of America
| # | Online casino | AffGambler Rating | Welcome bonus | Reviews | |
| --- | --- | --- | --- | --- | --- |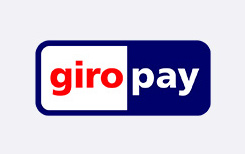 Best Casino Bonuses
Here, the best bonuses from online casinos are collected, which are conveniently divided into different categories.
Casino Banking Methods
Reviews of the most popular payment systems for making money transactions in online casinos.