BitStarz Casino Adds Ethereum (ETH) and Dogecoin (DOGE) Support!

16 February 2018 at 10:59 AM
0 comments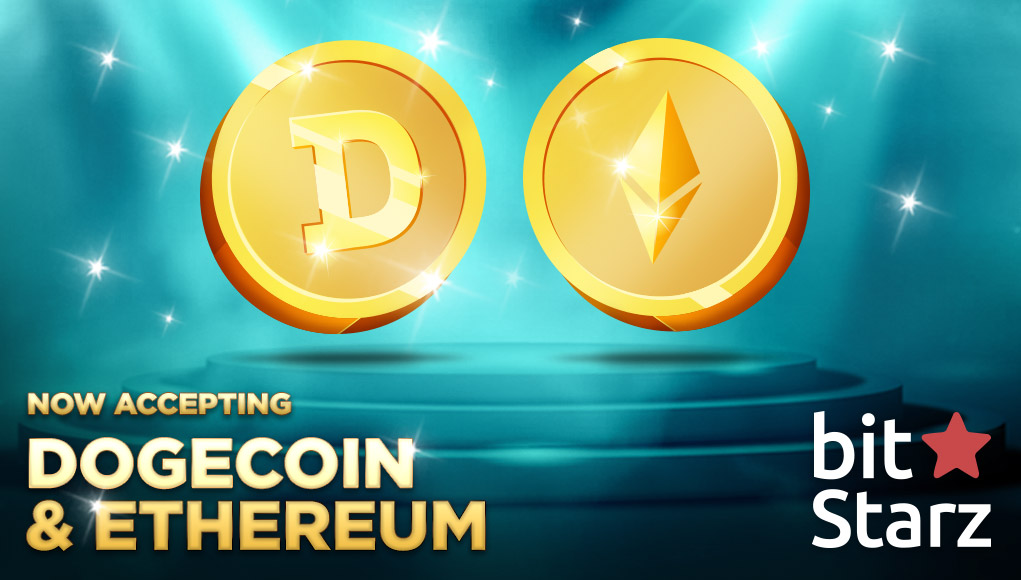 Thursday, Feb 15, 2018 – With an undeniable eye for expansion, BitStarz is showing that it's a true trailblazer, as it now accepts both Ethereum (ETH) and Dogecoin (DOGE) for deposits and wagers.
Raising the bar for altcoin acceptance and payment options, BitStarz has become one the world's first online casinos to offer support for both of these high profile cryptocurrencies.
ETH ranks as the world's leading altcoin, second only to Bitcoin in the cryptocurrency realm. While its rise might not be quite as jaw dropping as Bitcoin's, there is no denying that Ethereum has become one of the strongest cryptocurrencies in the world. Making use of Blockchain technology and the principles of decentralization, ETH has noticeably strong foundations. ETH is also making strides through its very own programing language, which is introducing new ICOs based upon its decentralized foundations.
Delivering plenty of power and adding a new dimension to BitStarz growing list of deposit options, ETH's presence is certainly going to win over players. DOGE might not be breaking down the same barriers as ETH, but it's certainly no less of a popular digital currency. Open source, this fun-loving crypto brings together Bitcoin and Internet meme "Doge" as one. It started as an inside joke, but it's safe to say that Dogecoin has blossomed into something much bigger. Understanding Dogecoin's position as one of the world's most entertaining altcoins, BitStarz hasn't hesitated in allowing its members to use it play some of the most exciting casino games around.
The altcoin market has grown massively in recent months, with many digital currencies finding a foothold. The growth in altcoin uptake certainly hasn't escaped the attention of BitStarz, as it's done all that it can to listen to player demand. When you take on board the advantages of these coins, it's easy to see why they've been in gambler's sights; with BitStarz giving its members exactly what they want. Bringing ETH and DOGE support to players, all members will now be able to deposit and play through these two leading cryptocurrencies.
Officially ranked as the Best Casino of 2017 by AskGamblers, Bitstarz.io has blazed a trail for Bitcoin and digital currency gambling, delivering an unforgettable hybrid-currency online casino experience. Bitcoin heads up the list of payment options at BitStarz, but it by no means stands as the only way to deposit and wager. Joining LTC and BCH as recently added options; players are sure to find ETH and DOGE to be very welcome cashier additions.
Speaking on the arrival of ETH and DOGE, Srdjan Kapor (BitStarz Marketing Manager) said:
"We here at BitStarz take a huge amount of pride in being one of the most adaptive and inclusive online casinos in the world. For that reason, the list of deposit and withdrawal options just keeps growing, as we continue to expand our player base. Just recently we added LTC and BCH support to great success, so we've now decided to add ETH and DOGE to our cashier options as well. We are sure that with the increased number of payment options at hand moving forward, players are going to be able to enjoy BitStarz bonuses, promotions, and games that much more."