Play Casino Games For Money. What Novice Players Need to Know?

26 April 2019 at 02:43 PM
0 comments
Playing casino games is a risk, and punters shouldn't expose themselves to even higher uncertainty. That's why it's advised to make weighed decisions before spending real money. There are certain things novice players need to know: how to choose operators, what games to play and how to withdraw winnings.
Where to Play Real Money Casino Games?
Make no mistakes when selecting gambling websites. It's always better to stay safe with best real money casinos that have good reputation, decent license, original software, nice games selection, suitable payment methods and fast and helpful customer support.
You can check out or Casino Rating to choose a gambling site that is best for you. Use different filters to have only casinos with the right set of characteristics. For example, select your country to exclude casinos that don't accept players from your region, or set payment methods you are going to use, currencies, languages.
We are only showing casinos that support players fromUnited States of America.
If we have jumped the gun, you can view all online casino
How Best Real Money Online Casinos Are Determined?
Casino rating is calculated automatically based on each operator's data. There are multiple factors taken into account such as license, player reviews, how casinos handle complaints, etc. Payment methods, games selection and other factors contributing to the convenience and entertainment are considered as well.
Why Players Should Choose Best Casinos?
Because that's how punters ensure smooth gambling experience. The lower service quality, the more problems you might have when playing for real money. It can be bad support, delayed withdrawals and verification, money disappearing from your account and tons of other big and small issues.
If you want as few unpleasant surprises as possible, opt for top rated casinos. If you are ready to take a risk and sign up with less reputable operators just to benefit from some promos, choose any operator that has license and original games. Check also how fair a selected casino is when managing conflicts with players.
Withdrawing Money from Casinos
It's too early to celebrate right after you get a nice win. Wait for the time the money is cashed out. Withdrawal problems are what players often complain about. What can possibly go wrong? First of all, there are situations when casinos refuse to pay without any legitimate reason. If you play at a bad casino, this can happen to you.
Secondly, there are many important details hidden in the casino terms and conditions. Most players don't usually read carefully this document and unintentionally break the rules. This is exactly what bad operators are waiting for. They want you to do something that for some reason isn't allowed and then take your otherwise legitimate winnings.
For instance, casinos often say that playing certain games while you have bonuses is prohibited. But they won't stop you from loading those games and placing bets and they won't say a word unless you win and want to cash out your money.
Bonus abuse is another reason casinos can use to cancel your withdrawal requests. Different operators have different understanding of what bonus abuse is. Some say that accepting several bonuses one after another is abusive behavior. They will tease you with promotions you aren't supposed to accept, and if you accept them you can be punished later on if you win.
There are absolutely legitimate reasons operators use to reject payments to players. Some punters think of casinos as a source of easy money and try cheating. When casinos block their accounts, they start complaining and insist they have done nothing wrong. To stay safe, always read casino T&Cs and don't do anything wrong. Don't give operators the reasons to take your winnings.
What Casino Games to Play For Money?
You can have all sorts of games to spend your money on. Games selection is usually so rich that novice players feel overwhelmed. But the great thing about online gambling is that you can play for free. Use this opportunity to find out what games you enjoy the most: slots, roulette, blackjack, live dealer games, video poker, etc.
Every game has its own theoretical return to player (RTP) that shows how much players get back as winnings. If RTP is 98%, that means players in general will collect 98% of the amount they wagered back, and 2% will go to casinos. But the distribution of winnings isn't even. Some can get nothing, while others win big. However, actual RTP should be close to the theoretical.
Most Generous Online Casino Games to Play for Real Money
The higher RTP the more profitable real money game is. Blackjack, French roulette and baccarat can return a lot, but there are certain conditions under which their RTP can be maximized.
Blackjack RTP will vary depending on players' skills. Those using basic strategy can increase RTP to 99.5%. But this blackjack strategy needs to be followed strictly, and there are many rules. However, players don't have to remember all of them as there are special tables that show what you should and shouldn't do.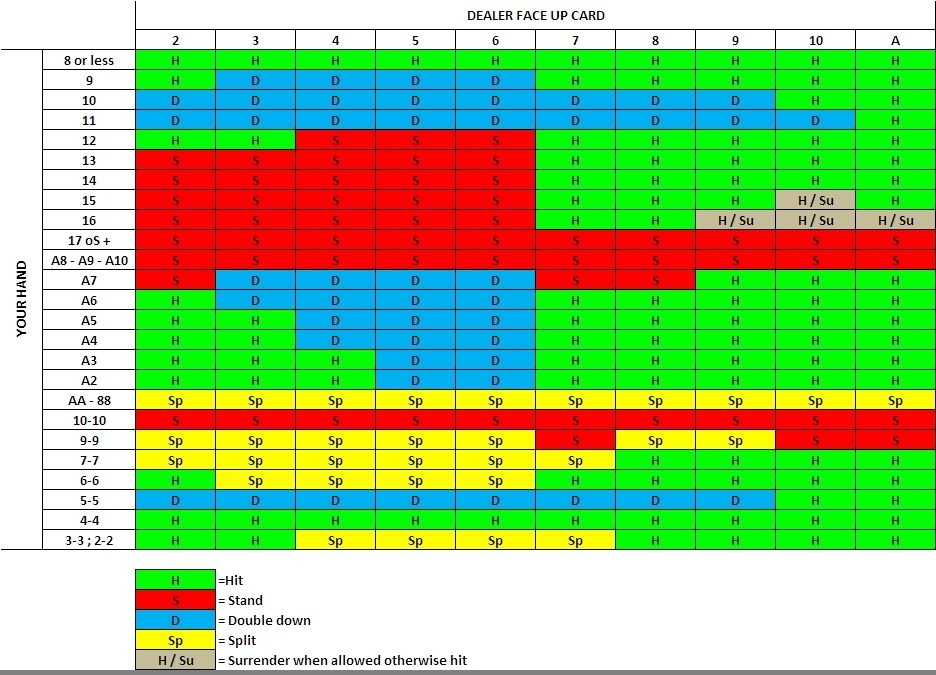 For French Roulette to return back as much as possible, players should place even money bets. In this case the house edge will be 1.35%. And if you play real money baccarat, you should always bet on the banker to get maximum RTP of 98.94%.
Most Profitable Slot Machines
Every slot has its own RTP. If you want most profitable casino slots to play for money, choose those with highest RTP.  Keep in mind that there can be different versions of the same game, and they can all offer different payout ratio. Therefore, you need to pay extra attention to what versions you are about to play.
Video slots typically have RTP between 93-97%, and there are just a few of them that return players 99% and more. These are:
Goblin's Cave by Playtech – 99.32%
Ocean Princess and Ugga Bugga by Playtech – 99.1%
Nemo's Voyage by WMS and Ooh Aah Dracula by Barcrest – 99%
Tropic Reels by Playtech and Mega Joker by NetEnt – 99%
Should Real Money Players Accept Bonuses?
Why not to get some bonuses when uploading real money to the casino account? This can make your deposit last longer. But bonuses are tricky, as there are multiple requirements players have to fulfill, and that's what makes casino promotions less lucrative. Some operators set requirements that would discourage most players.
There are punters who prefer not to take any bonuses, and this can be a wise decision. If they win, the winnings are credited directly to their real money account and withdrawal can be requested at any moment.
But some casino promotions are indeed attractive offers which are worth taking. To find out what bonuses are good, you can calculate expected value of a bonus:
Total bonus amount – playthrough requirement*house edge of the game you'll play
If the result is negative, bonus isn't worth taking. For example, you get 100 EUR, wagering requirement is 30x100EUR, house edge is 4%. Expected value is 100 EUR – 3,000 EUR*0.04 = -20 EUR. That means you are expected to lose on average 20 Euros while clearing this bonus.