Introduction. Meeting Highest Category Casino Dealer. How the System Works Against Player

11 September 2019 at 02:06 AM
0 comments
The author of this post is a former professional casino dealer, who got his certificate at Metelitsa casino dealer school in Moscow. He used to work at more than sixteen casinos in Moscow, Saint Petersburg, Sochi, Volgograd, Saratov, Ryazan, Rostov on Don, Krasnodar. He'll talk about how casinos actually beat players, what players can do about it. He'll also discuss popular casino myths and more.
Introduction
Casino, bright ads, charming music, gorgeous ladies, tasty cocktails and, of course, firework of emotions. This is how players see this place, those holding their talismans inherited from their grand grand mothers and hidden inside their pockets, mumbling something intensively and blowing gently on a deck of cards in hope to see sacramental Royal Flush. But let's slightly open another door. Behind it there's an "operative group" of dealers or croupiers trying to make everything possible to make you leave a casino with enough money to take you home.
If you remember from some movies that casinos serve alcohol mixed with some substances, or if you really think that having no windows inside the building does the trick, forget about all of that. We'll talk about it later.
Lucky Dealer or Why You Lose Much More Than You Should On Average?
Let's start with how dealers are trained to serve a client, oh sorry, a guest.)
First thing they are taught is to practice some actions that are supposed to show fair play, but in fact are pointless. These are actions like spreading face up cards out on the table to ensure players that the full deck of cards is used; shuffling for quite some time; and the hand clearing gesture (showing palms after touching chips or dealing cards). And, of course, a grim inspector giving a nod of approval each time dealer asks check.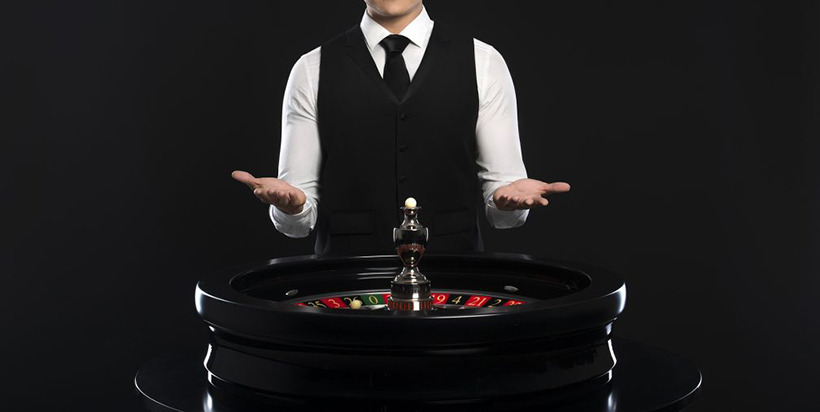 All of that makes players think that everything is fair and a little bit of luck is all they need to finally buy their beloved wives new winter boots, and it doesn't matter that the winter is over, they'll be kept for later. Players think everything is unlike when you play durak (fool) card game with gypsies in a platzkart carriage.
The reality is different. Sometimes casino's aren't satisfied with the theoretical house edge of 3-4% that they are supposed to have, and they therefore teach their dealers not just regular techniques and skills, but also some tricks that people call cheating.
I'll start by telling you that by far not all dealers have secret skills of robbing players, and for most dealers this is a regular job, just like any other job such as a cashier at a supermarket or a seller at one of the cell phone carrier offices. They work their hours, welcome customers with fake a smile and get paid not that good money. To get one of dealer categories (there are in total 4 categories: intern, third, second, first) there's no need to perform tricks at the table. Counting skills and a good knowledge of the procedures when working at a poker or a roulette table is enough.
But each casino has two or more of the highest category croupiers that have gone through additional training and gained special skills. These dealers spend 6 more months training hard to take their skills of dealing cards and throwing a ball to the next level. For 7-8 hours 4 days a week they practice the same things, mostly alone at a training table. Because a single mistake can reveal cheating to players and this affects casino's reputation first and foremost.
There will be a series of posts with each one of them detailing the tricks dealers use to minimize your chances of winning at poker as well as roulette, and what to do about that.