Denmark Kroner Casinos (DKK)
The situation with gambling in Denmark is mixed. On the one hand, the expectations of a fan of gambling from the country of victorious liberalism are the highest. But on the other hand, Danish liberalism has nothing in common with the state regulation of the services market.
Denmark is pretty small, but economically and socially developed (fourth largest in the world for the human growth index) country. In practice, this implies a high standard of living (the Danes earn 30% more than the average citizen of the EU) and extensive opportunities for out-of-labor practices (as the average duration of the work week in Denmark is 37.5 hours). Show more
It means that Danes are perfect client for online casinos. And since the national currency in Denmark is Danish kroner, it's easy to find a casino with this currency both licend in Denmark on outside the country.
Read also: Best Online Casinos In Denmark Denmark License Casinos List of Casinos with Danish Language Restricted Casinos in Denmark
Summary
According to the World Happiness Report Update 2016, Denmark is recognized as the happiest country in the world. And the Organization for Economic Cooperation and Development in 2015 called it the country with the smallest gap in the world between the rich and the poor. It means that a lot of people have enough of money to spend some on iGambling. Pretty reasonable.
Since 1948 in Denmark there was a state monopoly on all types of gambling. Slots were allowed, but the game was only for conditional money. Therefore, it is not surprising that Denmark has a long tradition of illegal gambling. Back in the 70's and 80's there were underground institutions (mostly bars), where only trusted people were allowed to go.
It is interesting that in such institutions there were no mountains of cash on the tables – players played matches, scraps of paper, but there were pay tables, according to which the matches won were exchanged for cash. In 1990 the new law on gambling have been created and the emergence of official casinos started.
Are casino accepting DKK legal and licensed?
With the advent of online venues offering video slots and betting, Danish lawmakers felt the need to settle this part of the rapidly growing market. Each say there are more and more new online casinos with Denmark kroners depositing option.
It all began with the fact that in 2003 they forbade foreign companies to operate on the territory of the Danish jurisdiction. Since online operators are often registered in countries with more liberal market regulation, like Malta or Curacao, Danish banks have been advised not to service credit cards involved in paying for online gambling services.
At the end of 2014, amendments were introduced to the law, which established stricter rules for foreign online casinos. First, operators and suppliers of gambling software must be tested and obtained a license in Denmark to be able to use Denmark kroner. Secondly, foreign owners of online casinos must pay high (20% of income) taxes to the Danish budget. And, of course, each of these casinos must offer an option for depositing in DKK.
The commercial organization of gambling without a permit is illegal in Denmark, which creates high guarantees for players – the game is always fair and safe.
In which casinos can you play with Denmark Kroner?
Every online casino in Denmark receives a license from the Ministry of Justice. In Denmark, there is the concept of gambling as a "debt of honor", since there are no legal bases for paying debts as a consequence of participation in unlicensed games.
One of the most popular games in Danish online casinos is poker. Poker as a gamble, especially in online form, has been popular in Denmark since the early 2000s. The main factor of popularity is the success of the Dane Gustav Hansen, the owner of the gold bracelet of the World Series of Poker , the three-time winner of the World Poker Tour, who collected prize money for USD nine million. Not surprisingly, a small country like Denmark is ranked 25th in the WSOP ranking.
At the time of the entry into force of the 2010 law, Denmark's citizens could use the services of 400 online institutions, some of which were created specifically for Danish residents for depositing only in Denmark Kroners or sometimes – US dollars. As the new rules assumed a state license, many operators decided to legalize their activities.
In the first year of the new law, the Danish Gambling Authority issued 25 licenses. And the wide selection of different online casinos in this country is full with both newly created institutions and classic, world-famous names.
Now in the country there are 210 sites, almost all are bilingual (Danish and English), accepting Denmark kroner, euro and American dollars. Many of them specialize precisely on casino-services, some are offering only slot machines, others – live poker and baccarat.
What are the methods of depositing in casinos with Denmark Kroner?
81% of all citizens of Denmark playing in online casinos use debit or credit cards for depositing the accounts in Danish kroners. Therefore there are a lot of local casinos that does not provide any other alternative depositing method. But usually you'll also find several other options, also popular in Denmark, even though not as much as VISA and Mastercard.
If you would like to pay with Danish online wallet, there are several options: MobilePay, PayPal, Payson, Invoice and others. You can also put some cash on your account using bank transfer.
If you are willing to exchange US dollars or some other currency into Denmark kroners, contact the support service of one of the casinos from below to know the availability of automatic currency conversion, there is constantly updated list of top Danish casinos from our specialists. Show less
Country: United States of America
| # | Online casino | AffGambler Rating | Welcome bonus | Reviews | |
| --- | --- | --- | --- | --- | --- |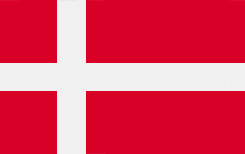 Join today and start earning rewards