Argentine Peso Casinos (ARS)
Argentina is a very attractive market for online casinos. There are over 40 million people and more than half of them use internet. Moreover, operators don't have to introduce gambling to Argentine market as this industry is well familiar there. The country has its own gambling culture and people can access variety of land-based and online casinos.
Most casino players prefer having gaming accounts in their local currency. Argentine players aren't exception. To ensure smooth experience for customers from this country, many online gaming sites offer Argentine Peso (ARS) accounts. Show more
Today almost 50% of players from Argentina use their national currency to wager at online casinos. There is a variety of gaming sites licensed in this country which tailor their services based on specific demands of this market. But a lot of casino fans still join foreign operators. In this case they whether exchange Argentine Peso to USD, EUR or some other currency, or find casinos that offer accounts in ARS.
First online casino licensed by the Argentinean jurisdiction was opened in 2002. Since that time other operators acquired this license and many international operators entered the market by introducing Spanish version of the site, Spanish customer support and by accepting South American currencies.
Online casinos accepting Argentine Pesos
Even though the number of gaming sites accepting Argentine currency is growing, there are still a lot of operators which don't. You can look through multiple casino choices just to find no suitable operator. That's why we've prepared the list of gaming sites where you can use Argentine Pesos to purchase casino credits. This is the easiest way to find what you need. You can compare different options based on the sites' rating, bonuses and detailed reviews.
Argentina players have several options when it comes to selecting online casinos. First option is to find their local gaming site where they will open accounts in pesos. Second option is to join foreign operator that allows peso accounts. Last option would be to exchange pesos to other currencies. The latter option is the most attractive for those who care more about other things like games choice, service quality and promotions rather than availability of certain currencies.
Many players refuse to use exchange services because they will have extra costs. Conversion isn't usually free and players would have to use this service twice – when they deposit and when they withdraw money. If you are ok with extra costs, don't worry about how you are going to exchange Argentine Pesos. Casinos will do it automatically without bothering you.
According to the country laws, online casinos targeting Argentina players must comply with local gambling regulations. But this law isn't properly enforced and a lot of operators have no problems accepting players from this country. Despite the fact, that local online casinos are available in Argentine, they aren't capable of competing with world-known gaming sites. That's why players often join foreign operators.
How to Exchange Argentine Pesos?
The opportunity to choose any existing casino that accepts players from Argentina is worth making some extra efforts. If you have found a perfect gaming site, you wouldn't like the idea of leaving it just because it doesn't accept Argentine Pesos. You can still play there and make deposits, but first you'll need to exchange your money.
We've already mentioned that casinos can exchange currencies automatically. But they take fees for this type of operations and you would probably want to use other services. Usually banks offer online exchange services to convert money into variety of currencies fast and easy. That's the option any bank account owner can use, however, best exchange rates aren't guaranteed.
Another option is to use online money exchange services. There are a lot of them and you can find most attractive exchange rate. But you should be careful selecting such services. Don't judge based solely on the rates. Always make sure the service is trustworthy.
Banking Options
Usually Argentine Pesos can be deposited through several methods. Most online casinos accept credit card payments, e-wallet, bank and money transfers. Big casinos, recognized globally, usually accept a lot of payment options, while small operators targeting limited markets, will offer you less banking choices.
You can fund your gaming account through a wire transfer. But as you know, this method is very slow. Credit card payments would be faster and therefore, more preferable. If you don't want casino operators to know your sensitive financial information, you can use e-wallets. Whatever payment option you choose, make sure you can easily withdraw your funds from the casino of your choice. Show less
Country: United States of America
| # | Online casino | AffGambler Rating | Welcome bonus | Reviews | |
| --- | --- | --- | --- | --- | --- |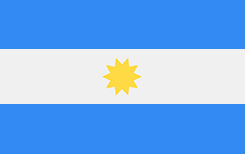 Join today and start earning rewards