Old Online Casino Slots. What Are They and Where to Play Them?

27 April 2019 at 03:55 PM
0 comments
Casino players are mainly interested in latest releases. New slot announcements are made almost every day and punters anticipate some of the greatest of them. But let's take a look at some of the oldest online casino slot machines to see how things have changed. There are some titles over two decades old which can still be played.
How and Where to Play Old Online Slots?
It's very simple to play old slot machines. They usually don't have any bonus features, and many even don't offer wild or scatter symbols. If you load one of the earliest online titles, you'll most probably have a payout table right above the reels or next to them on the main screen.
Pirates Paradise, for instance, is listed as one of the oldest Microgaming slots, and we know that Microgaming was the first studio to produce online casino software. Look at the screenshot below. There are three reels, one line, the payout table and a few control buttons at the bottom. Players just need to set wager size and click Spin. That's what you'll see when loading most early online slot games.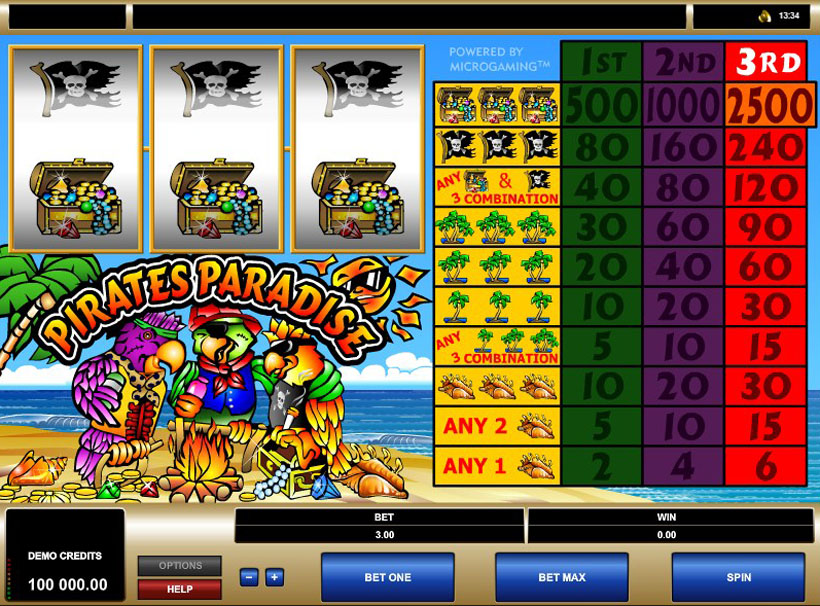 Three of the similar symbols result in the payout. But one or several symbols can usually be combined. On the above screenshot, for example, any three symbols with palm trees can be combined, and any combination of treasure chests and pirate flags is paid.
But the tricky thing with old single lined slot machines is that symbols should stop exactly on that line. Often symbols land a bit higher or lower and that doesn't count. As a result, you can have quite a long losing streak. So, it's better if you first play in practice mode. Then you can decide whether you like games or not.
It's believed that players can win more on old slots, but this isn't quite true. Return to player is generally in the same range as modern titles offer. Distribution of winnings will depend on the volatility level of each individual slot. But generally, volatility of old titles should be lower because there are no bonus rounds or other extra features with the possibility of winning big.
More advanced games with bonus rounds can be less favorable for risk-averse players as it can take quite a while to trigger bonus features. Therefore, players aren't guaranteed that even after a couple of hundred spins they will enter bonus round. Actual return is much lower if the bonus game doesn't get triggered. Meanwhile, slots without bonus features should distribute winnings more evenly making it a safer choice.
The same is true about progressive jackpot slots. Hitting a life changing jackpot is a rare event. The chances of a certain player winning the jackpot are close to zero, and for millions of punters average actual RTP will be significantly lower. That's why it isn't advised to play slots offering huge jackpots.
Oldest Online Slots and Where to Play Them?
If you want to play some of the oldest slot machines, you should look for them at Microgaming casinos. You can check our Casino Rating and use different filters, including Software. Tick Microgaming to have all the casinos offering games by this studio.
We are only showing casinos that support players fromUnited States of America.
If we have jumped the gun, you can view all online casino
Below is the screenshot of all the oldest Microgaming slot machines you'll need to look for at casinos. You can also visit the developer's website and filter titles by release date.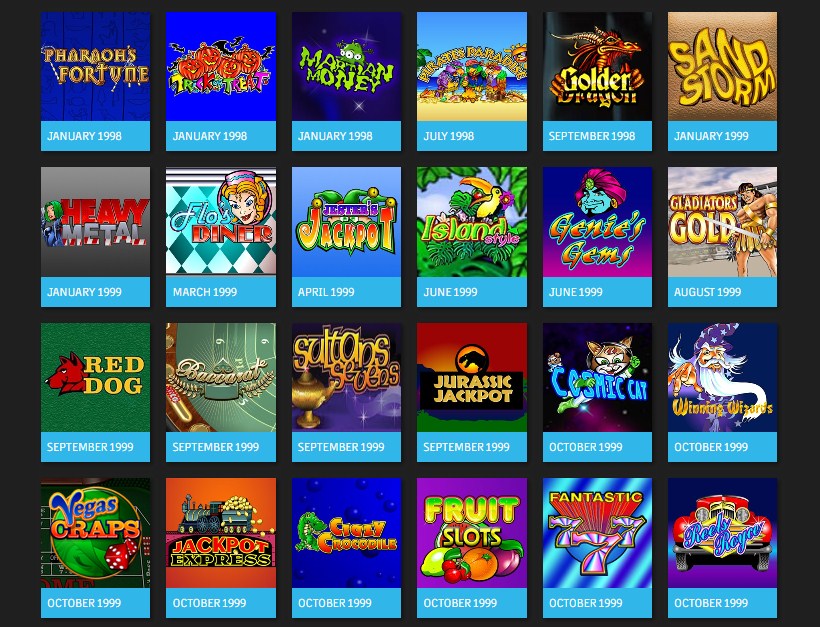 What Are Old Online Casino Slots?
Which slots can be considered old? There's no specific definition. Players can say some of the earliest online slots released more than two decades ago are old. Others refer to last year releases and they are right as well.  With so many new games produced every month, one year seems like a history. But the good thing is, even some of the oldest titles can be played for free without registration.
There are relatively new slot machines that have retro design and minimum features which are often called classic games. They typically offer one or two elements borrowed from modern video slots – nice graphics is combined with simple mechanics. These types of slots usually offer just one simple bonus game or wild symbols.
Do Studios Get Rid of Old Slots?
NetEnt regularly discontinue some of their old casino slots. Many of those games they discontinued were branded titles. The company has probably decided that paying for a license isn't rational as slots weren't super popular. Unfortunately, famous Aliens and both South Park titles along with some other nice games disappeared from NetEnt casinos.
Other developers most probably follow the same path and get rid of their old slot machines. But this can only be true for some of the industry pioneers. Most studios are relatively young and their earliest titles are just 5-6 years old.
Oldest Online Slots You Can Still Play
Microgaming has a lot of old video slots. When visiting their official website, you can sort games by date, and see how the evolution of the product. Pharaoh's Fortune, Martian Money and Trick or Treat produced in January 1998 are the oldest of them.
Unfortunately, it's unknown which was the first online slot. First Microgaming casino was established in 1991. Considering that initially there were just a few table and card games, earliest slots should be dated 1992 or later.
Cash Splash is the oldest progressive jackpot slot. Launched in 2004, it became a real sensation back then. There are two versions of this title, one has three reels and the other has five. Both of them can be played today for money or for free.
Unlike Mega Moolah and some other progressive jackpots by this developer, Cash Splash doesn't offer millions. Players can win relatively small amounts. Average jackpot is somewhere around $24,000. But the record jackpot, which dropped in July 2017, was $134,929. It's worth to mention that this jackpot can drop multiple times a day.