Italy License Casinos
All online casinos that operate on Italian market have to acquire license issued by AAMS. This Italian organization is responsible for regulating both land-based and online casino industries within the country.
Italy is well familiar with gambling. Not everyone knows, but the word "casino" itself has Italian origins and was first used to define a gambling venue in the late 18thcentury. Today the country is a very attractive market for online casino operators and government makes sure their citizens are well protected against bad gaming sites. According to the law, every gaming site must be licensed by AAMS even if it already owns other licenses. And the government is very serious about enforcing this law. Operators breaking this law risk fines or even imprisonment. Show more
Italy previously had very strict regulations regarding which operators are allowed to enter their market. But their position changed in 2006 after the European Commission's intervention. The thing is, as a member of EU, Italy has to follow certain common EU standards and blocking European gaming sites from entering Italian market was a violation of these standards, in particular, EEC Treaty principles about freedom to provide cross-border services.
European Commission started to investigate this case in 2003 and only three years later the country government took some steps to change the situation. Before 2006 only two local organizations had the right to arrange sports betting and by that time more than 600 gaming sites were blocked in Italy. Among them were operators that owned EU license.
As a result of investigation, Italian government agreed to let other operators enter the country, but required all operators must first be licensed by AAMS and comply with certain standards. From then on the country made other regulatory changes to liberalize gambling.
Who Can Get Italian License?
Not every foreign operator is allowed to enter this market. There is a variety of requirements which make it impossible for small gaming sites to acquire the license. Applicants should have experience running gaming business in Europe and have a minimum turnover of 1.5 million Euros during last two years. License seekers are also required to comply with high technical standards and be able to provide consistent, high quality services.
It's worth mentioning that Italy liberalized its online gambling industry not voluntarily. It was forced to take these steps in order to comply with EU regulations. Therefore, the country has opened its market only for EU gaming sites. The operator planning to acquire Italian license has to have official residence within EU. Operators will also have to pay AAMS €350 thousand. To protect the country from too many gaming sites, Italy specified that maximum number of licenses AAMS can issue is 200.
Stringent technical requirements is another barrier to enter Italian market. The regulator will run thorough software tests before it will be approved. But operators can avoid waiting for the approval by using platforms which have already been tested by Italian regulator.
How Big Is Italian Market?
Italians are very active casino players. The market keeps growing and that makes online gaming operators want to acquire Italian license despite various obstacles related to getting it. According to official data published by Italian gaming authority, last year players wagered almost 19.5 billion Euros. In 2015 gaming spending was more than two billions lower. It's an aggregate data that includes both online and offline gambling. Online gaming spending, excluding online sports betting, has grown by more than 100 million Euros from €486 to €591.
According to experts, the growth of Italian gaming market can be explained by some regulatory changes. In particular, government takes measures to fight unlicensed gaming sites. As the country gets rid of illegal operators, more players switch to licensed operators whose turnover can be monitored by the government. Therefore, official data keeps growing.
Successful fight against illegal gambling operators encourages new operators to join the market by acquiring AAMS license. Demand for Italian online gambling license has grown in response to tighter law enforcement. Now acquiring legal status gives a lot of benefits. Operators will be able to access this rich market and will pay relatively low taxes.
Regulatory Changes
Since Italy has started online gambling liberalization, the Italian regulator constantly introduces some changes. Currently AAMS is working on new licensing terms. Even though they are expected to be similar to previous ones, it always brings some uncertainty. Show less
Country: United States of America
| # | Online casino | AffGambler Rating | Welcome bonus | Reviews | |
| --- | --- | --- | --- | --- | --- |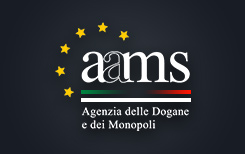 Best Casino Bonuses
Here, the best bonuses from online casinos are collected, which are conveniently divided into different categories
Gambling Licence Providers
Online gambling licenses are issued only after the online casino business meets the requirements of the chosen jurisdiction.