How to Sign Up at an Online Casino?

30 August 2020 at 07:56 AM
0 comments
The very first step to start a real money online casino journey is to sign up. You can play almost any casino game in practice mode without completing this step, but real money mode and real winnings won't be an option in this case. But if you aren't sure you want to invest your own funds and still would like to have real winnings, you can take a no deposit bonus.
How to Register at an Online Casino?
It's meant to be a very simple process, as gambling operators have no benefit of making it complicated. Each casino site asks future customers to fill in some registration forms, and they usually want the same information: full name, email, login and password, country and city of residence, phone number. Usually a phone number isn't obligatory at first. But they are often required when players claim bonuses.
As usually, certain fields are required when filling in the registration form. The rest of the information can be added later. The whole process can literally take less than a minute.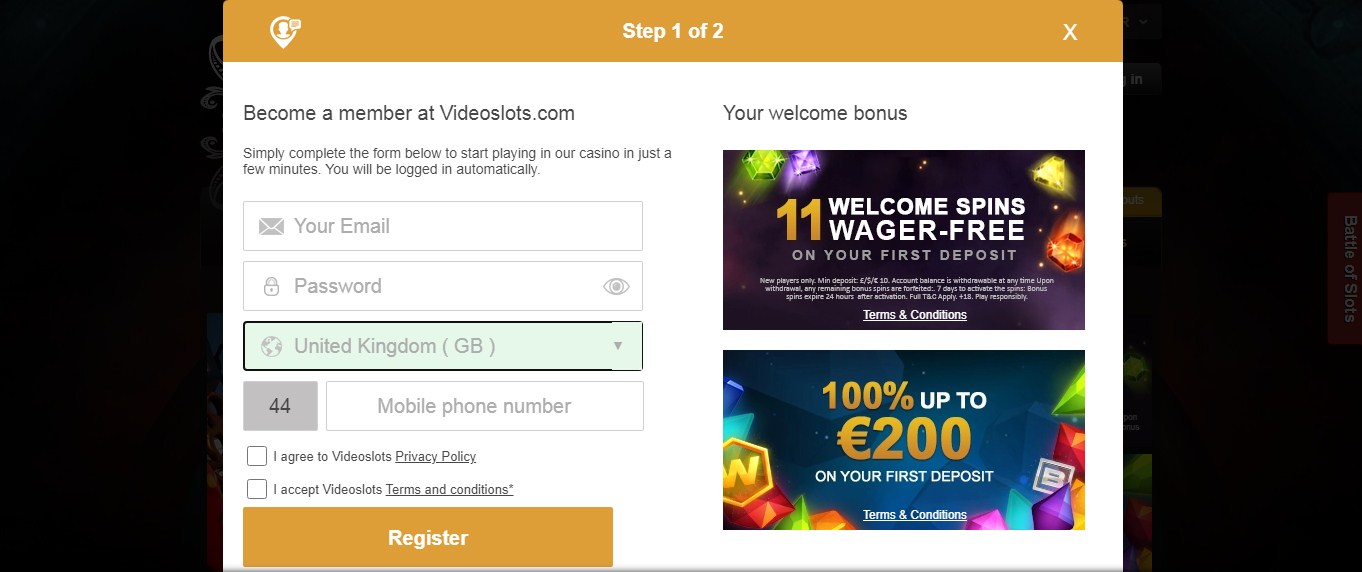 After that casinos usually ask to verify an email and choose an account currency. Then all is left to do is push the Sign Up button. Once registration is complete, you are ready for your first deposit. Or you can log in and still play for free.
Registration by itself doesn't provide any special casino features. Free slot machines and other games are available to everyone, even to unregistered users. So, there's no point in joining an online casino unless you are ready for some real money action.
There's one advantage to registering, though. Players get the chance of collecting a no deposit bonus and after completing playthrough requirements it can turn into real cash.
Casinos Offering No Deposit Sign Up Bonuses
There aren't many operators offering bonus credits for signing up. But they are always out there. You'll have a small amount of money or free spins, find out more on this page. But keep in mind that this isn't free money but bonus credits, and unless you complete wagering requirements they are not withdrawable funds.
Sign Up Bonus Money to Play Slots
Usually online casinos do not say what games can or cannot be played using no deposit bonus credits. But slot wagers typically give highest contribution towards playthrough, meaning that you can clear bonus funds faster.
How Much New Players Can Get?
Don't expect large amounts. Usually online casinos don't give a lot of money for registration, and this is understandable as they don't require deposits. $20 is considered a generous offer. But usually it's $5 to $10. Sign up offers can come in the form of free slot spins. In this case players use winnings to make wagers and turn them into cash.
Problems Related to Registering at an Online Casino
If you gamble for quite a long time, you can unintentionally create duplicate accounts at some casinos. This situation can happen as players throughout their gambling career sometimes forget which casinos they have accounts with. Creating more than one account isn't allowed, because that's what abusers do to repeatedly benefit from the same bonus offer.
To avoid creating multiple accounts, it's recommended to contact customer support and ask them if you already have an account at their casino. Do that when there's even the slightest chance that you have registered there previously.
It's better to ask them this question by sending an email. In this case their negative response can be used as a proof that duplicate account was created unknowingly. Sometimes support operators do mess things up, and if that happens, you have the document proving that you can't be accused of cheating and having multiple accounts.
Creating duplicate accounts is a serious issue that is addressed very seriously by online casinos. But sometimes if an operator understands that you've done that unintentionally, they simply delete one of your accounts and let you play. But some casinos use it as an excuse to later cancel winnings.
Read Casino Rules before Signing Up
This is a very important moment. Spend some time and just look through this document. You'll be surprised by what you can find there. Remember that casinos are free to set any terms and conditions. Malta and UK casinos won't be able to do include unfair terms and conditions simply because they will be punished by their respective regulators. But nothing will stop Curacao licensed casinos from doing that.
Where to Sign Up?
Registration bonus, the process of signing up and other things aren't as important as your casino choice. Choosing an operator is the biggest challenge. Everything else is secondary. If there won't be a decent casino, you will eventually regret wasting time and probably money. That's why it's important to make a wise choice. Make sure a casino at least has a license. Read player reviews and complaints, terms and conditions. Don't just register at any casino, even if it offers one of the most lucrative bonuses.