How to Tell if a Casino is Legit. License Verification

26 July 2020 at 03:38 AM
0 comments
Every online casino must have a license. But there are some rogues that claim they have one when in fact they don't. Since license is the major characteristic of a legitimate gambling business, you should be able to tell liars from honest operators.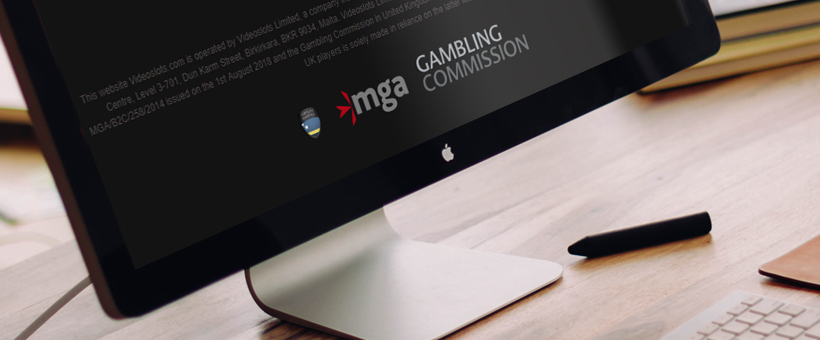 Casino license is usually very easy to verify. You just need to know some tips. Most of the times operators place jurisdiction icon, in which they got their permission to run casino, right at the footer of their sites. This icon should be clickable and it should take you to the license verification page. Let's take a closer look at three most popular jurisdictions.
Checking Online Casino License
If you think that all licensed online casinos are good and only the rest are bad, you are very wrong. Having any license by itself doesn't prove operators will follow high standards and run their business fairly. But the jurisdiction in which they got their permission to run the business can tell things.
Curacao is the least valuable jurisdiction in the online gambling world. It's a well known fact that regulation is quite loose and there's little control over license holders. As a result, there are plenty of bad casino operators that treat players unfairly. At the same time, there are reliable and reputable casino sites as well. You just need to be cautious when picking Curacao licensed casinos.
Next in terms of reliability comes Malta. Malta Gaming Authority is the regulator that keeps a closer look at their license holders and invests more efforts in ensuring safe and fair gambling. There are some mega popular casinos having MGA license, and one of them is Videoslots.
The most reliable out of three most popular jurisdictions is the UK. Gambling Commission that is responsible for regulating gambling, fiercely protects player interests and doesn't hesitate to punish UK operators with hefty fines in case they act irresponsibly and break rules.
How to Check Curacao License?
Videoslots casino is licensed in all three of the above mentioned jurisdictions, that's why we'll be using it as an example. If you scroll down to the footer, you'll find Curacao jurisdiction logo. Click on it and to be directed to the following address: validator.caracao-egaming.com. That page offers all the information regarding the license holder and the status of a license.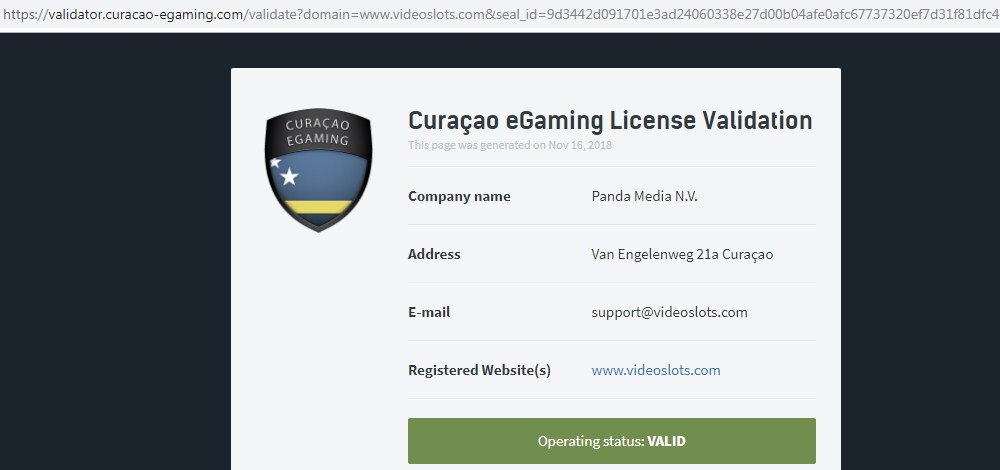 Note that some rogue operators use fake validation pages that have similar domain name. Players not paying close attention to that can easily miss that. You can never be too careful and checking the address word by word can save you from some rogues.
Above is the example of checking Curacao eGaming license. This is one of four Curacao master license holders. Keep in mind that each of the companies having master license will have different verification pages.
Another popular Curacao license is issued by Antillephone. Similar instructions should be followed to verify license authenticity. The only difference is that Antillephone logo is different and you should be taken a different address: validator.antillephone.com.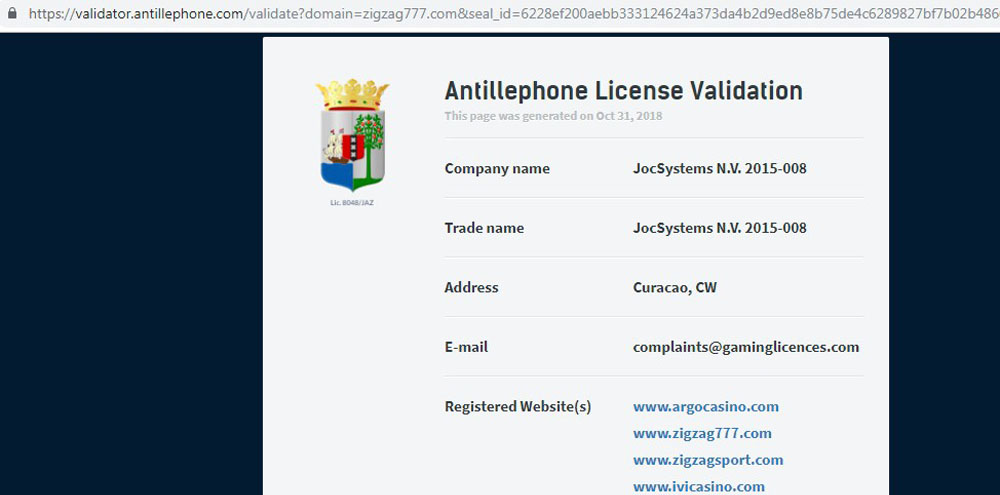 The third company holding Curacao master license is Gaming Curacao has the following validation domain: gaming-curacao.com/validation.

The only problem is with validating the last of four Curacao licenses issued by e-Management Group. Casinos that acquired their license don't offer any links to verification pages. There's no special website to check if license is fake or real. Players simply have to choose to believe or not to believe that they a license.

How to Verify UK Online Casino License?
Scroll down to a site footer and click on UK Gambling Commission logo. It should take you to secure.gamblingcommission.gov.uk. There you should see information about casino license and see if an operator is indeed allowed to run business in the UK.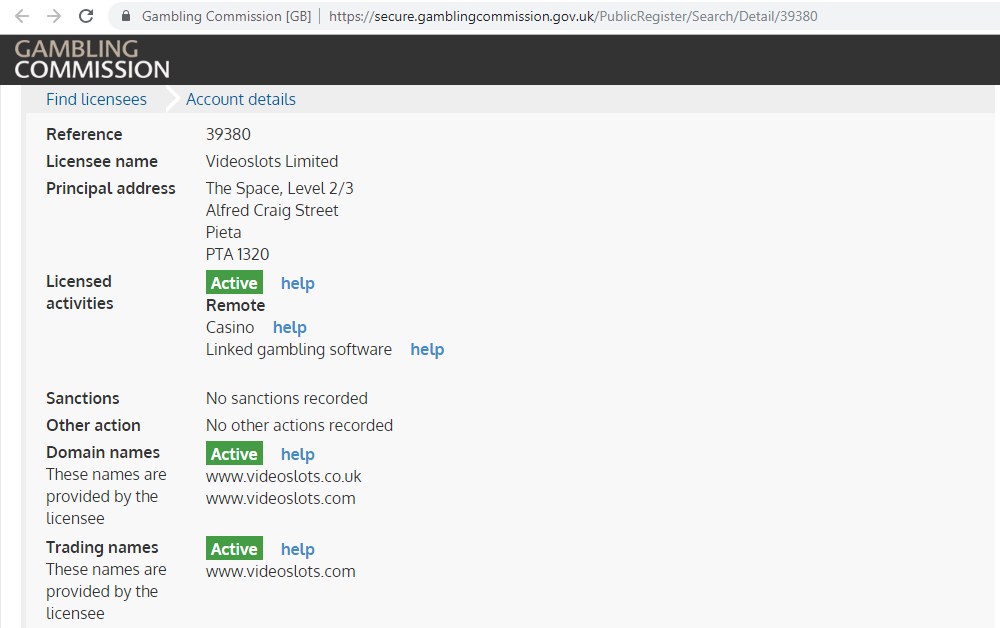 There are sometimes cases when you can't find the link to the license verification page in the footer. In this case you can use another method. Visit this address: secure.gamblingcommission.gov.uk/PublicRegister/Search. Then enter casino name and push Search button to get the list of operators. Find the one you are looking for and click View to open a page you are looking for.


Verifying Malta Casino License
Look for MGA logo in the footer of the casino site and click on it. You'll be taken to authorization.mga.org.mt validation page that displays the information about the status of the casino license.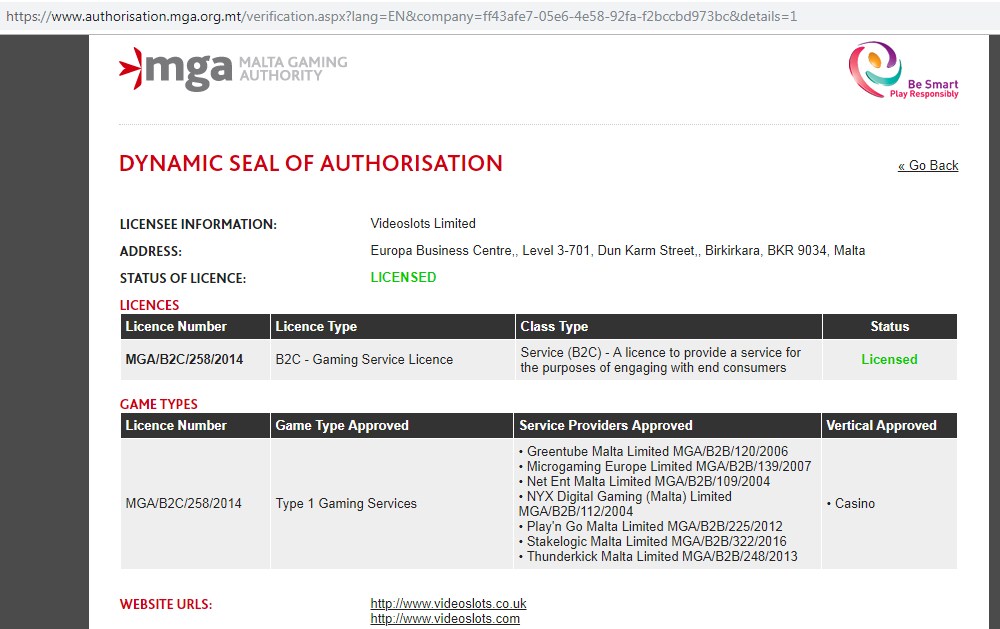 If you are to manually check license, visit mga.org.mt/mgalicenseeregister/ and enter casino name or its URL. In both cases there will be a list with licensed operators so you can just pick the one you are interested in.

If there are no results after entering a casino name, don't jump to conclusions. Try entering casino URL instead. That can give you results. Some casino brands can be registered as a property of other companies that can't be found by the name you enter.
PlayOJO casino, for instance, isn't possible to find if you enter the operator's name. But when you enter their URL, it shows that it's one of SkillOnNet brands, and SkillOnNet does have a valid license.
Conclusion
Even when you need to verify any other casino license, you know that the process is usually similar. Most of the times, you'll just scroll down to the very bottom of the page and find a clickable regulator logo. After clicking on it you'll be taken to the official site that will verify the status of that license. If there's no link, the easiest way is to ask it from customer support.