Best Horse Racing Themed Slot Machines. Play for Free Without Registration

29 April 2019 at 04:28 PM
0 comments
Horse racing is an exciting sport, but it doesn't seem to inspire many slot developers. As a result, players won't have a wide selection of horse racing themed casino slots. Up until recently just one such game could be found. Fortunately, two of the similarly themed titles have been released relatively recently.
Scudamore's Super Stakes by NetEnt
The slot machine was released on March 7, 2019. It features the legendary jokey, Peter Scudamore and is a great choice for those who love horse racing. Scudamore's Super Stakes looks and feels great with excellent graphics and a few amazing bonus features.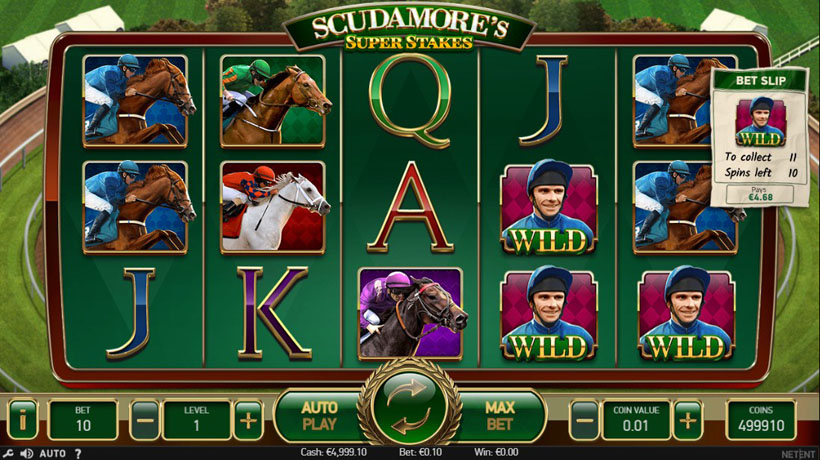 Peter Scudamore has set multiple records, including winning the record number of races in a single season and for the duration of the whole career. He has got lots of trophies and titles and is still a prominent and widely recognized name in the horse racing world even despite the fact that he retired over 25 years ago.
NetEnt tried creating the high quality, immersive slot. There's one unique opportunity the developer offers – players can bet on the number of certain symbols to be collected in a specified number of spins. It's a kind of a side bet that is optional to place. The level of risk can be adjusted so that everyone would be able to choose their own settings. As usually, the higher the risk is the bigger potential payout. If you love taking high risks, you can try collecting 92 of selected symbols in 80 spins. When successful, this will get you 1,242x bet.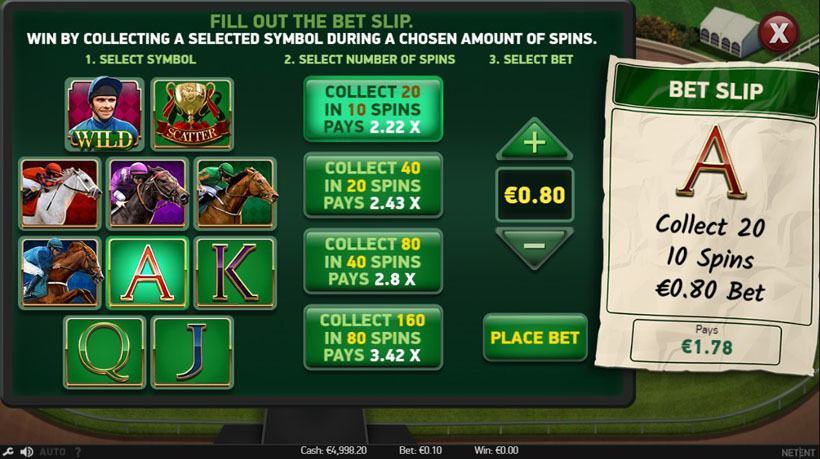 Players enter the free spins round just to be taken to a real horse race. The number of free rounds is random. The bonus will last as long as it takes for the first horses to reach the finish line. With each winning combination the corresponding horse advances one step. There should be four steps made to win the race.
Play Scudamore's Super Stakes for Free
This horse racing online slot can be played at almost any NetEnt casino. Practice mode can be accessed by anyone without registration. Just visit one of the casino websites, find the slot and choose free mode.
Bookie of Odds by Microgaming
It's another relatively new horse racing themed slot machine. Bookie of Odds was produced by Triple Edge Studios exclusively for Microgaming casinos. This time you won't find any legendary jokey or horses on the reels. It's a nice, simple online slot about horse racing.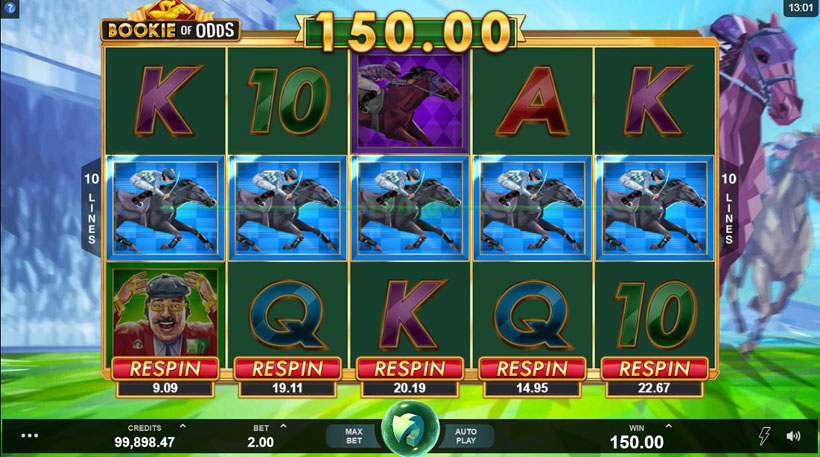 The most interesting bonus feature in Bookie of Odds is the re-spin. Great thing is you don't buy re-spins for a bunch of reels at the same time, but can have a re-spin for each individual reel. You have probably had situations when you wish you could spin a single reel to get another chance of winning big. Bookie of Odds gives you just that. Triggering a bonus round will be easier with this bonus feature.
But before you buy re-spins make sure you know all line patterns. There are only 10 of them and you need to be careful not to pursue some combinations that aren't on one of the lines.
After entering a bonus round, players immerse into the exciting atmosphere of real horse race. They can hear commentators do their job, audience screaming and horses running like crazy and altogether that create the beautiful chaos that makes players' hearts race. To make the round even more thrilling, the developer added one random expanding symbol which ensures more winning combinations.
Play Horse Racing Slot, Bookie of Odds, for Free
You don't have to pay to visit breathtaking horse racing events. Bookie of Odds online slot is available for free at many Microgaming casino sites. You can use our Casino Rating to compare and select an operator.
We are only showing casinos that support players fromUnited States of America.
If we have jumped the gun, you can view all online casino
Frankie Dettori's Magic Seven by Playtech
This Playtech game is one of the earliest slots featuring horse races. Frankie Dettori's Magic Seven looks relatively dated compared to titles mentioned above. But it isn't surprising as the online slot was launched over a decade ago. Frankie Dettori is another legend in the world of horse racing. Magic Seven refers to his epic win at all seven races at Ascot in 1996.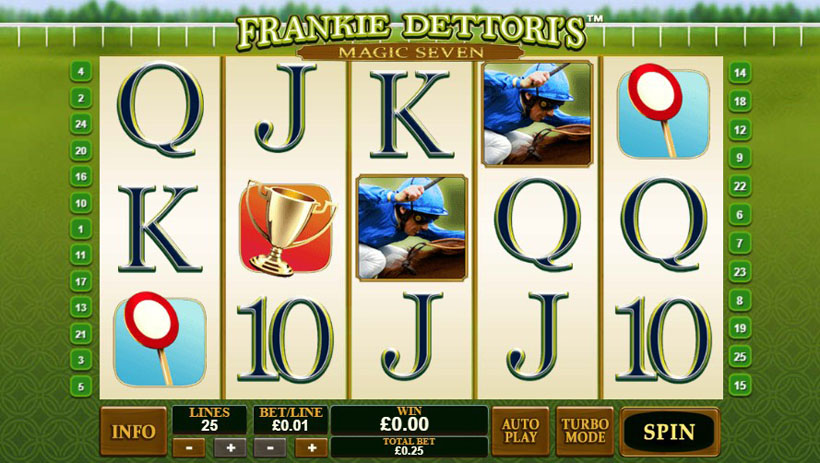 The key slot feature is the round of free spins. Before entering this bonus game, players will participate in the race. They'll need to choose a winning horse and then wait and see what will actually happen. Depending on the place of the selected horse, players get from 10 to 35 free spins.
In 2015 Playtech introduced the progressive jackpot version of Frankie Dettori's Magic Seven. Instead of random amount of bonus credits in one of the bonus rounds, players now can hit one of two progressive jackpots: Golden 7 or a smaller jackpot Silver 5.
Golden 7 jackpot doesn't drop often and its average payout is slightly higher than 430,000 Euro. It takes on average 4-5 months to hit the jackpot.
Play Frankie Dettori's Magic Seven Slot for Free
This game can be played for free and without registration at many Playtech casinos. Just pay attention to whether it's a jackpot version or original one as payout distribution will be different. You can play Frankie Dettori's Magic Seven in practice mode on our website. There's no need for sign up.