Top 5 Most Popular Online Casino Slots

23 April 2019 at 04:12 PM
0 comments
With so many slots released every month and thousands of titles already produced, players don't have to be loyal to one game only. There are a lot of slot machines that you can't remember playing in a couple of months. But there are also those many play for years. Those games don't have extraordinary graphics or advanced bonus features. On the contrary, most popular online casino slots are mainly quite simple ones.
Starburst: the Most Popular NetEnt Slot Machine
Starburst is a top popular NetEnt slot. This isn't just an assumption, but the fact. One of the NetEnt directors mentioned that in 2018 on Casinomeister. He was asked if this slot is really that popular as it seems to be, and he said that it's indeed their most popular video slot.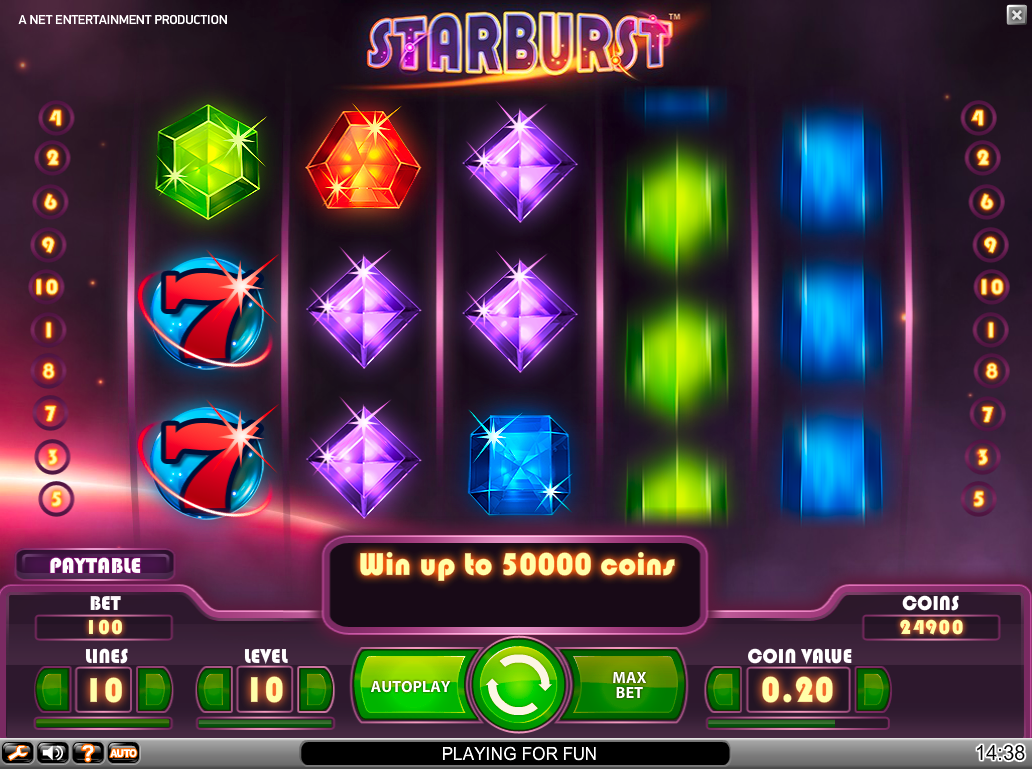 Five Most Popular Casino Slots
You can just guess what slots players think are the best. Their opinion can be tracked on multiple forums and casino related websites. But reading reviews and comments would require a lot of time. Instead, there's a much easier way that is offered by SlotCatalog. This resource takes into account the number of operators offering slots and average lobbies position of the slots to determine their popularity.
That seems to be a good option. It's obvious that the more popular titles are the more casinos will get them and the higher their position in the lobby. Operators can choose which games they want from developers, and they won't miss popular titles. As casinos collect data about popularity of every game, they know for sure what slots are the most popular and position titles in their lobby accordingly.
SlotCatalog rating seems to be pretty accurate. It's in line with what would many expect to be the most popular slots. This rating is also useful as you can look at what slots are popular in different regions. You can check specific countries or choose overall rating. Let's look at two markets: international and UK, since UK is one of the biggest regulated markets.
Top 5 Popular Slots. Comparison
If we look at Starburst, it holds top positions in both ratings. That's why it can be assumed that Starburst is the most popular slot out of all, not just NetEnt titles. The fact that it's presented on many casinos and has relatively high average lobbies position isn't surprising, as a lot of players enjoy it.


According to the graphs above, other top positions are accommodated by: Bonanza, Book of Dead, Gonzo's Quest, Immortal Romance and Twin Spin. Except for Twin Spin, these are indeed very widely discussed titles. Players always talk about them and operators often use them for their bonus promotions. Considering Immortal Romance is much more frequently mentioned by players than Twin Spin, we'll have the following top 5 most popular slot machines:
Starburst was released in 2013 and is a low volatility game. That means winnings are small, but frequent. That's probably the reason why players like it. Starburst is a very simple slot in terms of visuals and bonus features. It has just ten paylines, expanding wilds and re-spins. There are no free spins or anything else.
Bonanza comes second in this rating because of its super popular MegaWays mechanics. Just like many other Big Time Gaming slots, it looks much less appealing than some other games. But players just love MegaWays titles and their extremely high volatility, and Bonanza is one of the most favorite of them.
Today MegaWays doesn't feel that unique anymore. There are so many of these slots. Big Time Gaming was first to introduce it, but other developers, including Blueprint, Red Tiger Gaming, NextGen and some other studios, acquired the rights to produce this type of slots from them. As a result, new MegaWays titles get released very frequently.
Book of Dead, Gonzo's Quest and Immortal Romance – all of these games are at least five years old. So it wouldn't be wrong to say they have passed the test of time. They are all popular, interesting slots that could be found at almost any online casino offering games by these providers.
It's also worth mentioning one more title, which is Dead or Alive. Even though it's not in the top 5 most popular slots, it is many players' favorite choice. It's known as one of the highest volatility NetEnt titles. The developer is about to release Dead or Alive 2 that will have even higher volatility, variety of bonus games and state of the art graphics.
What Slots Can Be Called the Best?
Most popular casino slots perhaps are the best ones. For some reasons players prefer them to many others, and these reasons aren't just visual appeal and bonus features. Top five titles mentioned above have passed the test of time and haven't lost their attractiveness. They all were released quite long ago and look less appealing than some of the more recent games. Therefore, we can make the conclusion that graphics is definitely not the key factor in this case.
The key to popularity is probably the way payouts are distributed and whether or not it meets player expectations. Some slots might offer good maximum potential while others pays out regularly, but amounts are smaller. Extreme volatility seems to be the main factor.
Starburst is one of the least volatile NetEnt games. Bonanza is considered to be one of the slots with highest volatility, while Book of Dead has one of the highest dispersion among Play'n GO games. Immortal Romance is one of the highest volatility slots by Microgaming.
This theory fails to explain popularity of Gonzo's Quest. But this is a nice slot machine that reshaped the industry of online slots. It was first to offer cascading reels when winning combinations disappear and leave space for new symbols. In this case popularity can be explained by extreme cuteness and innovativeness of the game.