How and Where to Play Free and Real Money Online Blackjack?

24 April 2019 at 04:15 PM
0 comments
For those who love playing blackjack, online casino is a great place. Almost any gambling website will offer at least one version of this popular game. There will be traditional blackjack as well as live dealer tables. Let's see how and where to play online blackjack.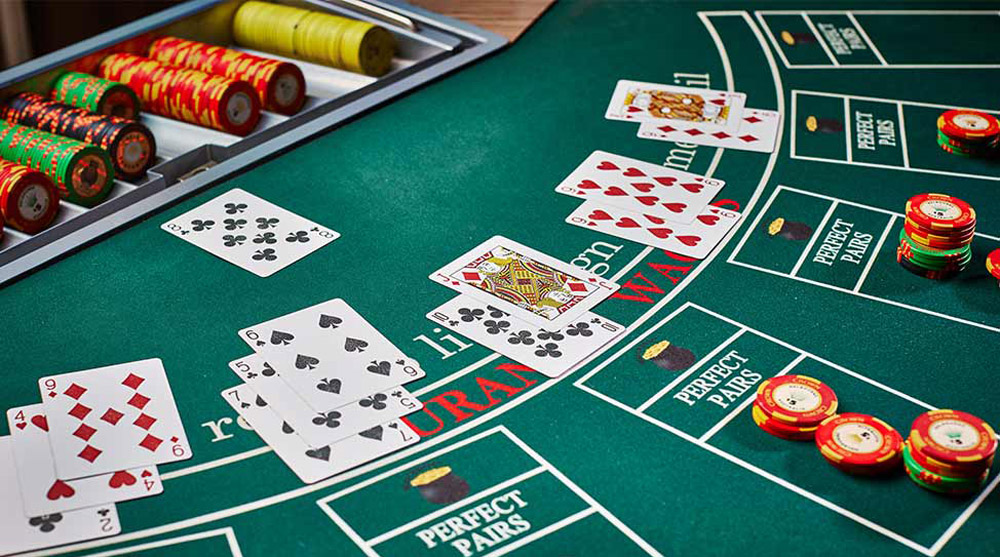 Where to Play Blackjack?
Almost all operators have it, and commonly punters find at least a couple of them. So you shouldn't worry about where to play. There are hundreds of casinos offering it. The only problem is to find the best casino site for you, and that should be a reliable operator as well. There are a lot of bad operators where players are most likely to have lots of problems ranging from poor customer support to refusal to pay money. That's why pay close attention what operators you choose.
To select an operator, check out our Casino Rating, where we list only licensed operators. As you visit this page, your country is automatically identified, and only casinos suitable for your region are displayed. Use variety of filters such as deposit methods, licenses, software on that page to narrow down the choices.
We are only showing casinos that support players fromUnited States of America.
If we have jumped the gun, you can view all online casino
Blackjack Game Developers
Many big and small software developers have variety of blackjack games in their portfolios. For instance, Microgaming, NetEnt, BetSoft, Play'n G, Habanero and Red Tiger all have it. Even Yggdrasil has released a couple of unique blackjack games with realistic virtual dealers, Sonya Blackjack and Lucky Blackjack.
Since there are lots of developers producing this game, there will be plenty of choice. Some casino sites focus mainly on slot machines and therefore won't be that good for you, while top operators from our Casino Rating offer a decent selection.
Live dealer casino providers specialize on table, card and some games other than slots. Evolution Gaming is the leader in this casino vertical. The company is also behind a variety of innovative solutions like Infinite Blackjack and Pre-Decision.
How to Play Blackjack?
It's a pretty simple casino game, but the result doesn't depend purely on luck. More experienced and knowledgeable players can win more frequently than others. To start wagering real money, it's enough to learn basic blackjack rules and have some experience playing in practice mode. There are just a few key moments punters need to remember:
To win at blackjack, collect more points than dealer without exceeding 21;
Cards from 2 to 10 give the amount of points equivalent to their value. J, Q and K give 10 points each; Ace gives 1 or 11;
Players can stop or ask for more after they are dealt two cards.
Play Online Blackjack For Free
Practice mode is available at any online casino. You can play for free any blackjack version, except for live dealer games. Some operators let visitors watch others play live blackjack. There's no need to sign up or make a deposit, all you need is to visit a website and load a game of your choice in demo mode. It's going to be absolutely the same game as in real money mode.
Blackjack Types
Each blackjack table has its own characteristics such as table limits, certain rules and side bets. But apart from that, there are different types of blackjack, for instance, American and European versions. American is a standard game many players are used to. It's played with 6 or 8 card decks. Dealers can check for natural blackjack, and in case they have a natural blackjack, the game is over. There are also other rules like splitting any pair is possible.
European version is played with two decks. Dealers can't check their face down card, even if there's a possibility of a natural blackjack. This rule isn't to players' advantage, as they might lose extra money by splitting or doubling without a chance of winning. European version doesn't allow doubling if players have less than 9, 10 or 11. Splitting is allowed only once per round and it can be implemented only to pairs that give 10 points.
Double Exposure version has one very attractive rule – both dealer cards, instead of one, will be face up. But to compensate for loss, casinos introduced some other rules. For example, when it's a push, player loses. In addition, natural blackjack is paid 1:1 and not 3:2 as usual.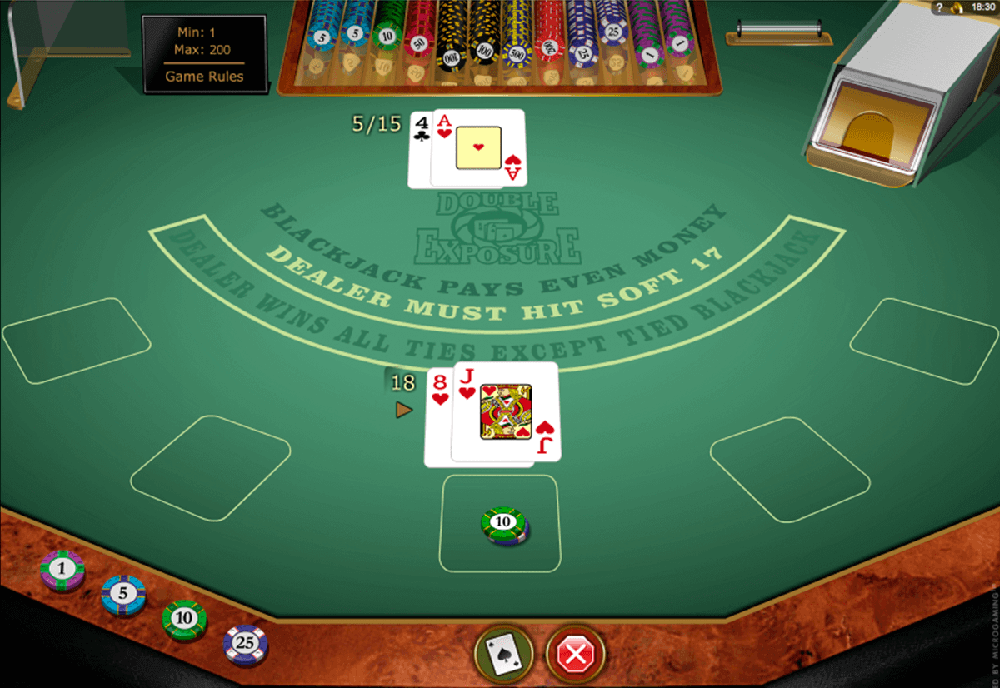 Blackjack Switch. Players get two hands each, and two upper cards can be switched between these their hands. This way it's possible to improve both combinations. However, casinos don't want to bear extra losses and made natural blackjack pay 1:1. Moreover, dealer's 22 points is a push regardless of player's hand, except for the situations when players receive a natural blackjack.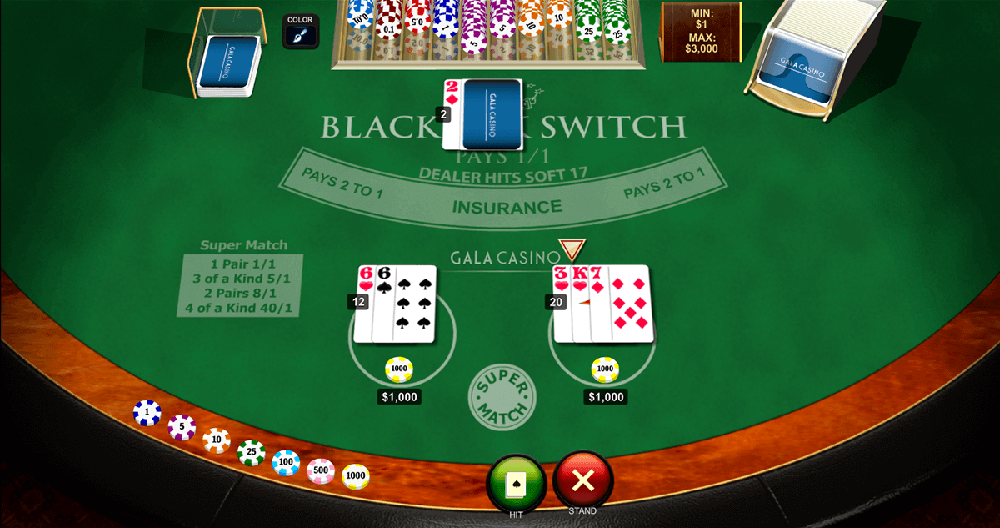 Blackjack Surrender. Players can surrender and save half of their wager if they have a weak hand. There are certain rules when it is best to surrender. For instance, a player receives 9+7 or 10+6 and a dealer gets 9 or higher. It would be a rational decision to sacrifice half of the bet and save the other half. Surrendering is also recommended when you have hard 15 and a dealer has any card giving 10 points.
How to Win at Online Blackjack?
Some players hope that card counting can ensure guaranteed wins, but this method is ineffective at online casinos. Card counting has no effect on the outcome because used cards aren't discarded after each round, meaning the whole pack of cards is shuffled in the next round.
The only way to increase your chances of winning at blackjack is to implement basic strategy and avoid making mistakes. Following basic strategy is the most effective way of playing. Those who strictly follow it, can lower the house edge to less than 1%. This strategy is perfect for online blackjack as players are free to use notes or anything else to check with the strategy.