Dolphins' Pearl slot by Novomatic is one of the most popular games around for a good reason.
It also happens to be one of the most established slots around with a good rep and lots and lots and lots of stuff to offer. Probably because everyone loves dolphins.
Advice from the Ocean: Be shore of yourself. Come out of your shell. Take time to coast. Avoid pier pressure. Sea life's beauty. Don't get tide down. Make waves!
First Dolphin's Pearl appeared in mainland casinos where it quickly gained popularity with users. These days not only does it generously give out numerous bonus features, it also has been known to pay out quite well and it doesn't have much bad publicity. Bring some tuna with you: it's time for deep sea diving again. Did you know 95% of the ocean floor is unexplored? What treasures are awaiting?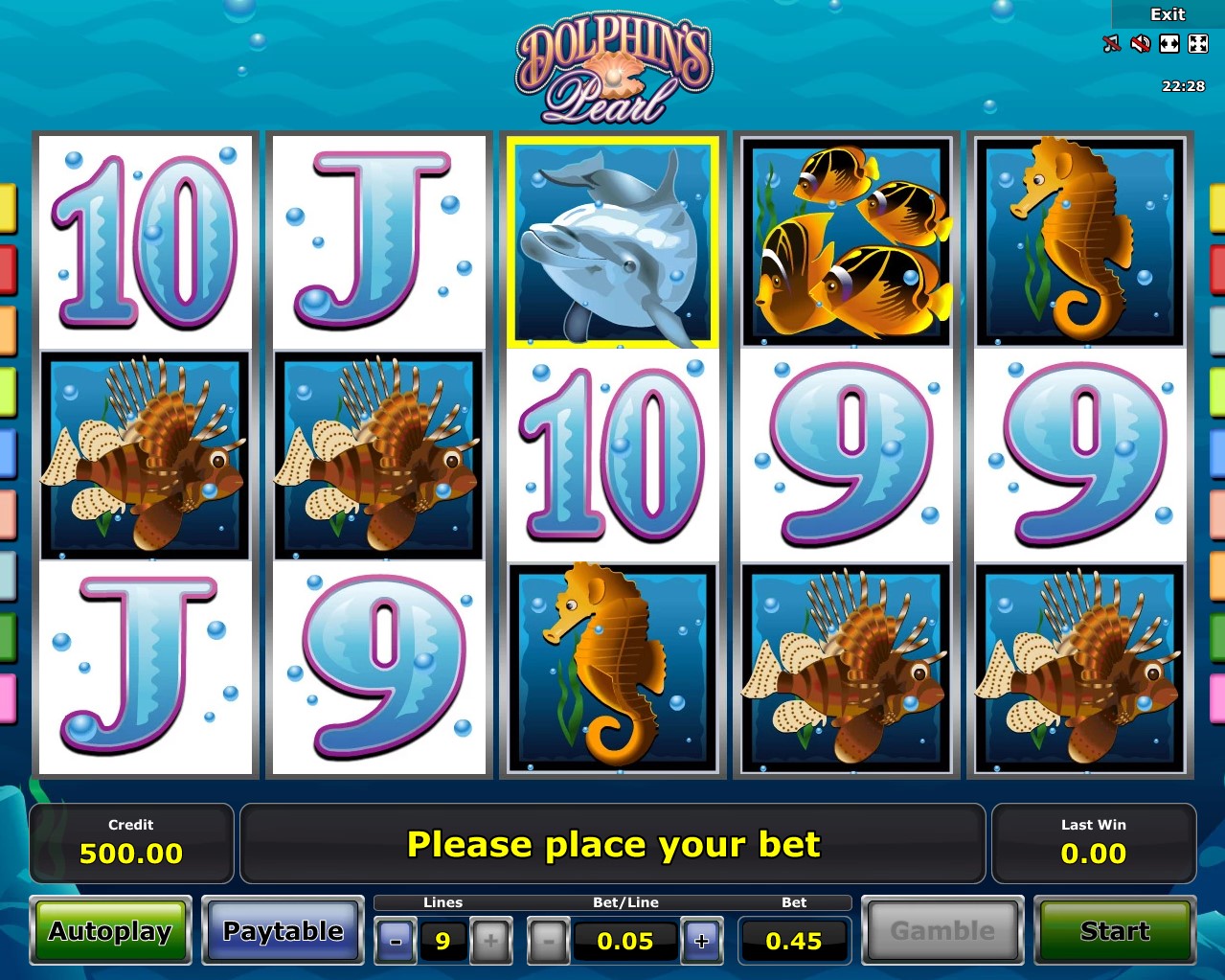 Top Online Casino Slots: Why Dolphin's Pearl Has Been Popular For So Long
This 5 reel, 10-pay line slot features everything people love about the marine life, and even the sea life dancing for you when you win. Everybody's happy, and most of them all the dolphins. They, as you probably have figured, are the Wild. Get enough symbols lined up on the screen – and you get a win. Sometimes two is enough. The pearl oyster is the Scatter.
Symbols
Pearl-oyster,
seahorse,
fish,
lobster,
stingray,
A,
K,
J,
Q,
9
10
Bonus Stuff
There are 15 bonus rounds to be gained when you get 3 scatters, and even they come with re-triggers. Also, watch out for insane multipliers. Double your wins with more dolphins coming your way. To top it all up, check out the gamble feature which allows you to experience even more thrills by adding another game when you win. In this game, you make a 50/50 bet and double your money or lose everything.
There is plenty here in terms of bonus features, obviously, but the one thing we want to see more in games of this kind is some kind of variety. There are a lot of games of this kind, so probably something unique would be nice – but you know what they say: never look a gift dolphin in the mouth. There's definitely nothing fishy about this game.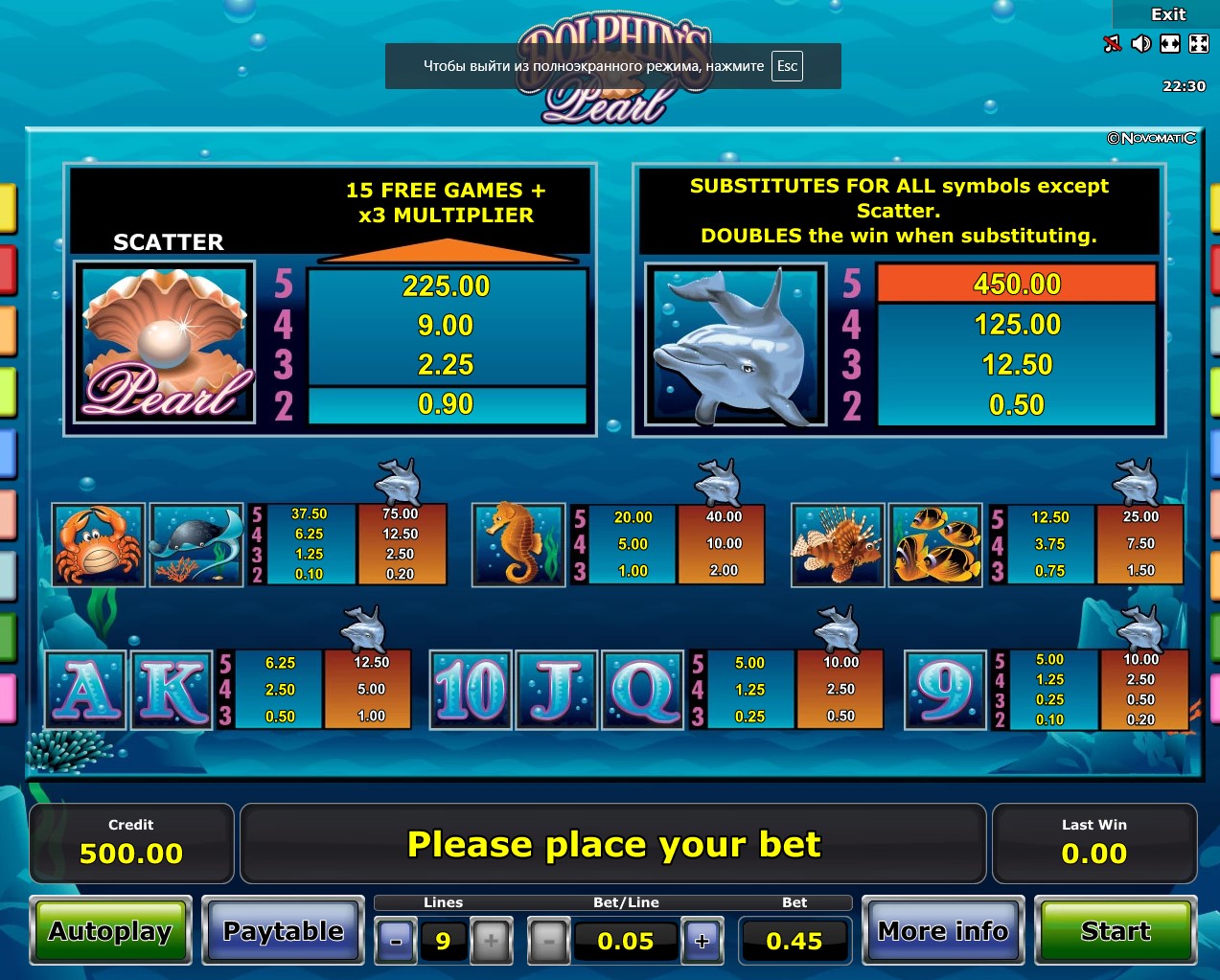 The Payoffs
The Dolphins know what they're doing. Trust us. Once in World War Two scientists taught them how to blop up enemy ships. strapped bombs onto their backs and let them free. The dolphins vanished, proving once again they are more intelligent than humans. Maybe that's why this slot has been so popular over the years. Peace and love! We recommend this game because the RTP is actually not bad – 95.13%. Make sure you check out the Paytable and make your own conclusions about how to play. Ultimately this game tends to pay in the long run.
Overall
We loved the layout because we think (we know) there is a lot to be had when you choose the right slot and a slot's design can tell you a lot about its capacity to get you money.
This has been a classic slot for a long time, and for a good reason. There is also a very good range when you place your bets meaning you have a lot of wiggle room if you're thinking strategy. In addition, you can keep going for ages with retriggers during the bonus feature, which seems like a tempting perspective. A lot of bonus features, Autoplay, good rep – it all comes together very nicely. This is one of the best games around, and we definitely recommend you give it a try.