Octane Risks and plenty of ways to win with The Lord of The Ocean Slot. Released in 2008 and still going strong, Lord of the Ocean is a flashy and generous Novomatic slot with a picturesque ocean interface. Think blue-haired Deep Blue Sea's protagonist meets Kevin Costner in Waterworld in the Pirates of The Caribbean universe.
We loved the Roman/Greek Mythology touch and think this is one of the more healthier options if you're going to introduce it to young people's impressionable minds. The layout is very well-designed and everything fits together very smoothly. We say this is definitely one of Novomatic's finest.
Not only is this slot very beautiful, it also comes jam-packed with 5 reels and 10 paylines plus very generous 1000 coins per line betting limit. Novomatic's famous dedication to graphics has yet again found an illustration in this sweet little slot. The max wins during Free Spins here are 5000X the bet, and to top it all there is a reasonable RTP of 95.10%.

Symbols:
The man himself (Poseidon)
Treasure Chest
The girl (Merman? Not sure)
10
J
Q
K
A
Gold symbol which is the Wild and The Scatter.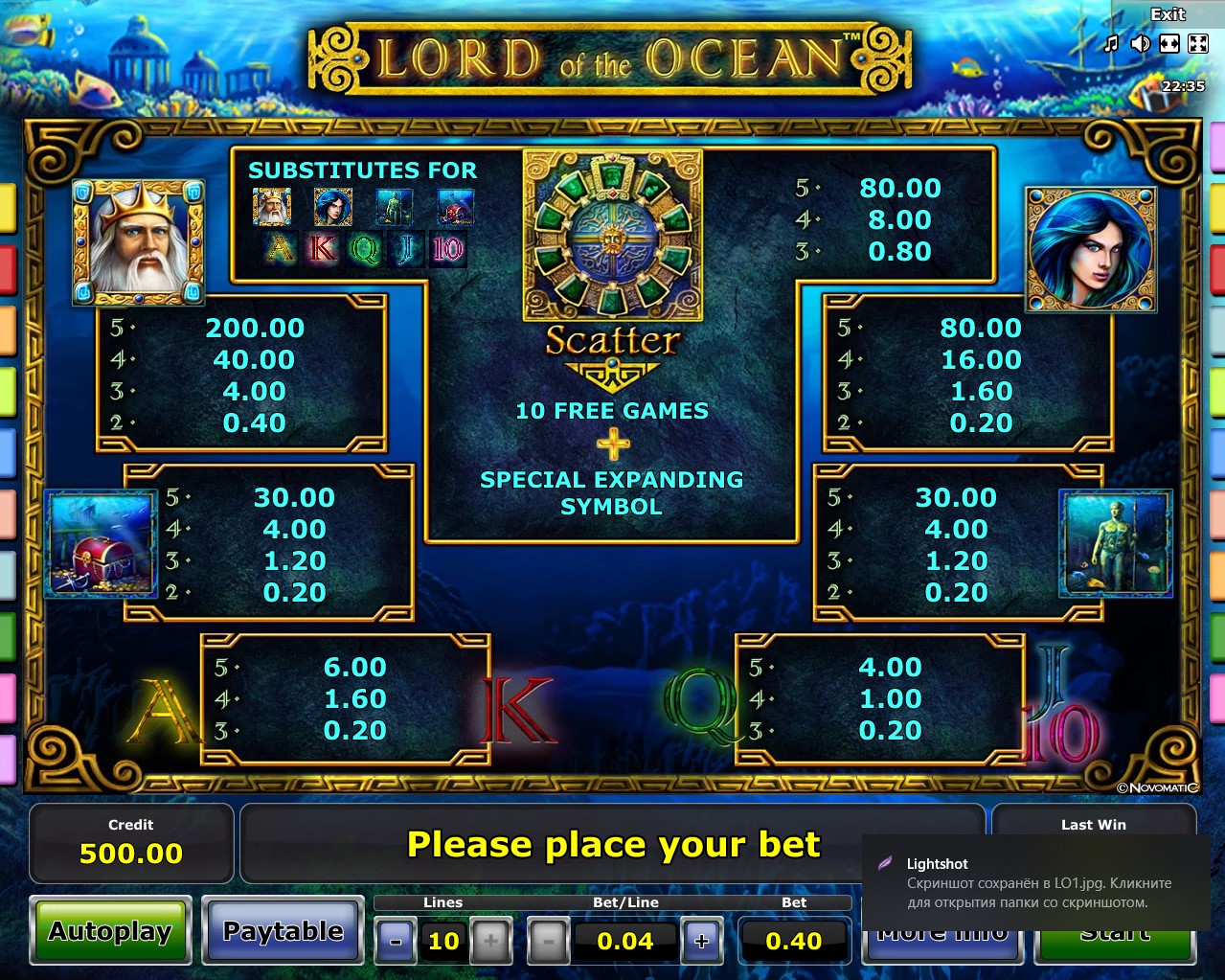 Bonus features: Plenty Of Wins
There's one but it's worth 3! Collect 3 scatters and get the Free Spins flowing, which at times can be really rewarding. The Paytable in this respect is quite like The Book of Ra paytable.
What adds to the excitement is the gamble feature which offers another chance to take even more risk. The graphics are as exciting as we expected them to be. The scenery is quite dramatic. The Free Spins feature really shines here with plenty of opportunities to win big so we think maybe go large on this one for a while – but monitor your activity, like we say, at all times.
Also, watch out for the expanding mystery symbol which has a lot of potential too. Every now and then there is a 90X win from the supporting characters. Not too bad, huh?
Don't forget to check out the mobile version (it doesn't play well with other fishies if you put your phone in the aquarium, but it provides decent HTML).
One Of The Best Online Slots By Novomatic
..Besides from all the richness we described above, Lord of The Ocean has a very bountiful Free Spins feature plus we've seen more expansion in this game than in all of America's history.
Watch out, however, as good things come at a price. High-variance slots like this have a way of sucking out your budget faster than you can say Ariel The Mermaid. Make sure you gamble responsibly and watch the game. While the payouts are decent, some storyline, we think, would help, but overall it creates a very good impression.
Don't forget to get back to us if you have any feedback whatsoever. We value your opinion as much as ours.
All in all
Very well-presented and with an outstanding Free Sins Feature, this slot is bound to steal you away from the office routine or long and boring trips – and you get paid for the fun! What's not to love? This is a unique and memorable slot, also thanks to its features and the beautiful merman.
The wins here are sporadic unless you hit a really big one so we recommend checking out Lucky Lady's Charm Deluxe, who is just around the corner, for a considerably higher RTP.