This extraordinary popular slot from classically excellent Novomatic will pleasantly surprise you in ways you may have never known.
Oh, and it is statistically the most played Novomatic slot ever, going back all the way to 2003 and featuring a dazzling 18 000 Jackpot.
Lucky Lady's Charm Deluxe has been a constant favorite with players for a while now. Coming from a name with a great rep, this sassy 5-reel, 10-line game with a reasonable RTP of 95.13% and plenty of Free Spins is everything you need for a good time (or even a god time if you have an industrious autocorrect option).
With an established past as a land-based slot, this now online version has been stoically providing great entertainment to players all over the world for as long as we can remember. The title is a play on words: Lady Luck is a constant character in film noir movies that started picking up popularity with Casablanca and never stopped. "Of all the gin joints in all the towns in all the world, she walked into mine". While we think those words are almost tearfully beautiful (and so was the film), this particular slot is more Cameron Diaz in The Proposal than Paul Baumer in All Quiet on The Western Font: smiles, glittering gems, gold coins, and clean, healthy auras.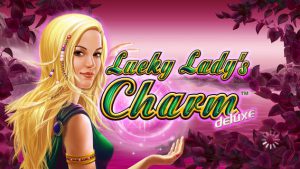 First Impression
The proverbial Lucky lady is a beautiful sunshine-hair-natural blonde with a love for horseshoes (she obviously comes from a posh home, so will she let you go for a ride?). The letters are nicely lit up, everything is gleaming, and the Paytable makes you think of women's self-development/yoga/ visualization classes: beautiful Universe, supernovas, sunrise, magical symbols, colorful fruits, and, yes, surprisingly high payouts. This game has been a favorite for this long for a reason. It may look a little frivolous to you, but it does offer substantial payouts (and interesting sound effects).
Gameplay options
Check out adjustable bet lines (+ and -)
 Choose lines from 1 to 10
Push Start
Go for Autoplay if you're in a mood for an autopilot so you can sit back, kick y0our shoes off, and watch placidly
Special features of the deluxe game
If 3 or more orbs line up, you get 15 Free Spins with a 3X Multiplier. And that is in addition to the prizes.
The Lucky Lady is the Wild, which means it can stand in for any other symbol.
The Scatter is a Crystal Ball, and it can appear anywhere to trigger winnings.
A resounding yes.

Payouts
Lucky Lady Charm Deluxe is one of the most generous games around with a very good average payout rate and a history of good payouts as well as a nifty and bountiful bonus feature during which y0ou can sit back and watch your wins multiply and stack up.
There are many opportunities to win here, proving again that there is such a thing as good fortune. Make sure you watch your luck carefully thought, we warn you – it's easy to get carried away with a game as pleasant and lush as this. Some of the best graphics in the business, we think, but don't forget to find The Lady some company in case she gets lonely – Book of Ra is just around the corner.
The History
Lucky Lady is a fortune teller and the symbols here are her tools. Here they are:
1. Ladybug 2. Horseshoe 3. Crystal Ball 4. Four-Leaved-Clover 5. A 6. K 7. J 8. Q 9. 9 10. 10
Overall
Lucky Lady Charm deluxe slot game is an all-time favorite for a reason with a solid RTP, plenty of bonus games, and very generous payouts. The game is high-variance, so tread lightly. The Lucky Lady is a capricious mistress, and the going can be tough if you dive in head-first into her mesmerizing eyes. We think this is definitely one of the best ones you will come across, so don't miss your chance and go for it. People's favorite, it is likely to stay in the lead for the years to come.