Summer Novelties From Slot Developers
18 August 2017 at 11:02 PM
1. Jurassic World from Microgaming.
After deciding to update its line of slots (the thing Microgaming does very rarely), world, as well as player money, met a new slot called Jurassic World, which, in theory, is the second part of the Jurassic Park slot.
The first thing that caught my eye was the lack of Flash technology, since this slot is made in HTML5, as well as the inability to find the "Young Vlad" character.
Despite the first impression of the dullness of slot payouts (which, in general mode, is the usual thing) the game has prepared us some surprises!
Firstly, the random appearance of a tyrannosaur with multiplication, that can multiply your bet up to x1000, not considering winnings from the lines.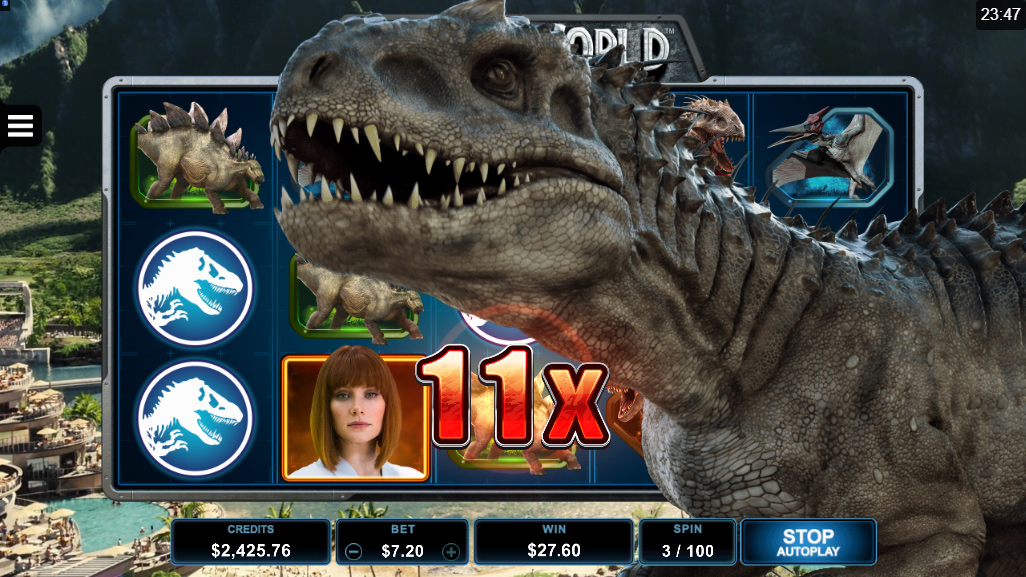 And secondly – three kinds of bonuses!
When you catch three or more scatters (those same old mosquitoes, only upgraded), a bonus game is launched, which is selected randomly.
By the way, there is one innovation here – if you catch two scatters in the normal game mode, then, for you to not get upset, to not catch the bonus, these two scatters will become "wilds"! But only two of them, the third one does not count!
So, bonus games modes: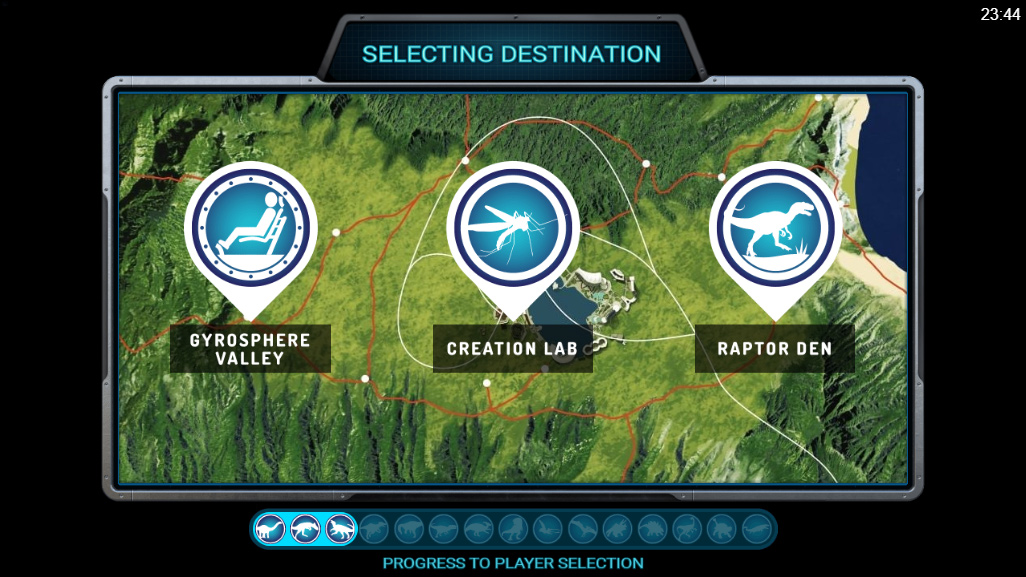 1. Green one named "Farm"
In the mode of this bonus game when there is no win at all, every unlucky spin raise multiplication, and so it can continue up to x7.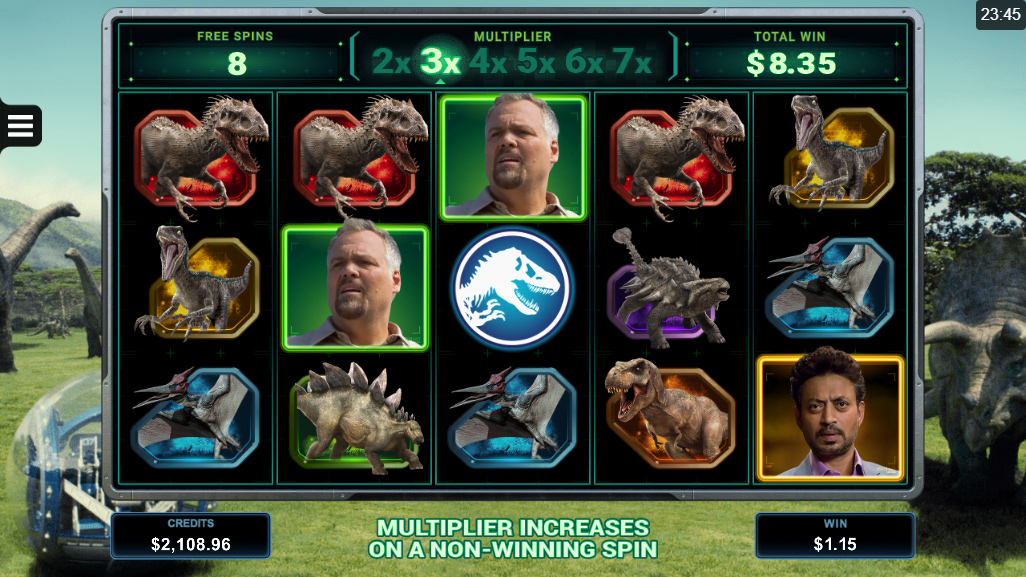 It means that at the last spins, when there is already x7, in theory, you can earn some good money! But that's not all. If the spins are over, and there are still no winnings, the Extra Spin (until win) mode will turn on until the slot gives you something. But, as the practice shows, the last spin, even with x7multiplication, will give you almost nothing, a few pennies. But if each spin is going to be successful, multiplication will not raise and will remain at the standard x2.
2. Blue one named "Laboratory"
In this mode, the wilds you get become frozen like those from the chicks with shotguns, and remain for 3 turns. If you collect a full house, then, in theory, there will be a big win.
3. Red one named «They're eating me alive!»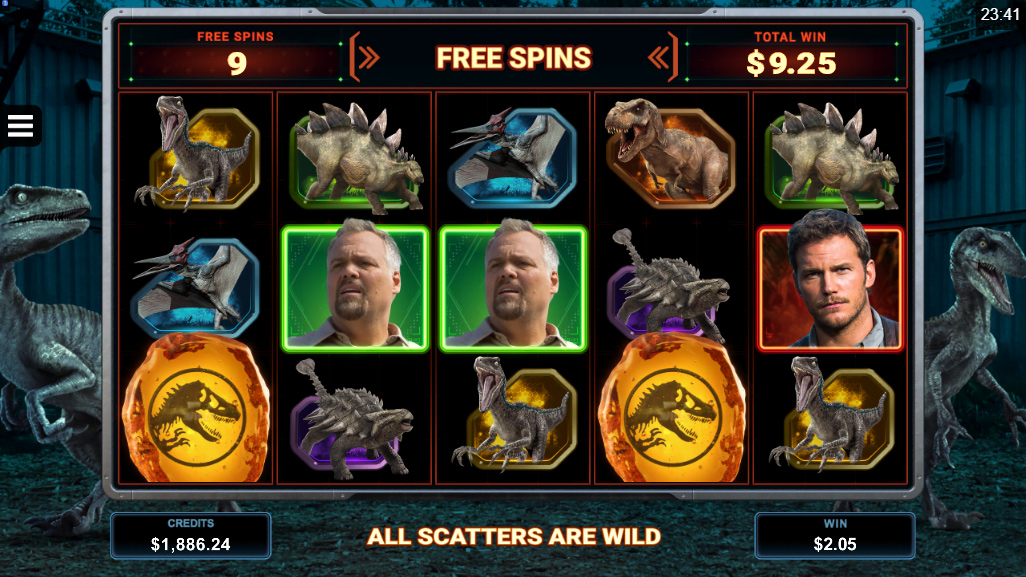 The mode of this bonus is pretty interesting and theoretically infinite.
The thing is that when you get two scatters, which also become wilds, they also freeze. And even if you got the third one, you get +5 free spins! And the scatters will disappear at the next spin. And it can be repeated as many times as you want!
Maximum payout.
As I wrote at the beginning, weak payouts are only the way it seems, but in fact the slot is hyper-dispersive.
The payout of the most expensive symbol from one line, which is a wild, here is equal to 250 coins per 30. The number of lines, classically for Microgaming, is 243. As a result, a full house of wilds will give you multiplication of x2025, and a full house on the first bonus with multiplication of x7 will give x14175, which is slightly more than 5 drops in Immortal Romance, and slightly less than the full house of wilds in Thrones in the first bonus mode.
The maximum bet of the slot is $7.2 (so no one could win too much), therefore, in theory, the maximum payout for 1 spin is $102,060.
2. Butterfly Staxx from Netent.
Netent recently started to develop a lot of non-dispersive slots, and this novelty turned out to be quite "easy". Butterfly Staxx is pretty entertaining and pleasant.
In fact, there is nothing tricky here. The goal is to catch one full-wilded reel in the normal mode, and then the butterflies will hurry to the first reel and the "respin" function will be activated. If during the respinning of the reels, you got one or more butterflies, they also fly to the beginning of the slot and, thus, maybe you'll collect a full house (and maybe not).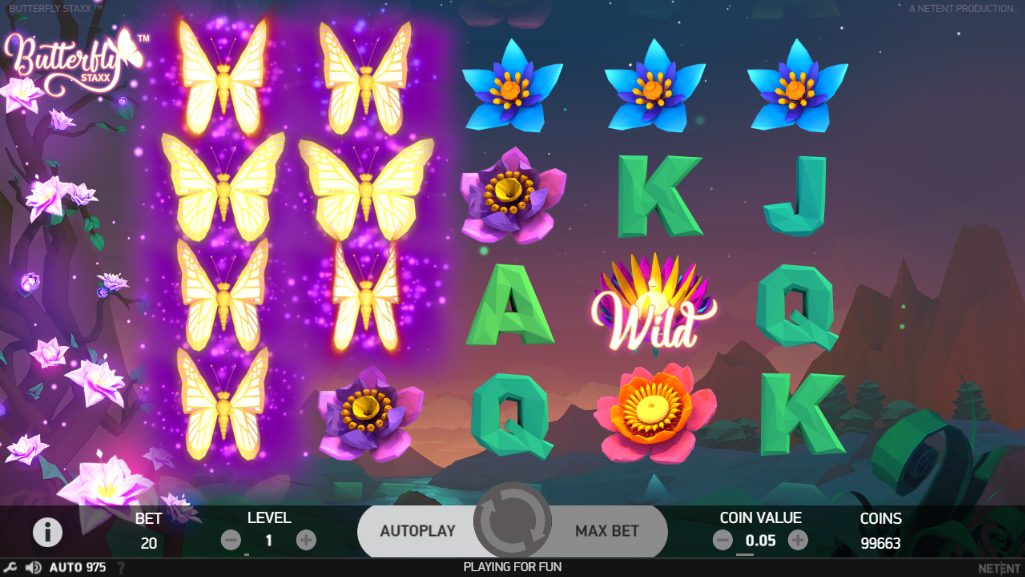 When you get 3-5 scatters on the reel, bonus game will be launched.
Here you'll find cocoons of the butterflies, and ripened cocoons (bright ones) turn into butterflies and fly the same way to the beginning of the slot. But there is one difference from the usual game mode – in the bonus mode each spin is being paid out. It means that after catching 5 scatters, which provide 7 free spins, and catching a bunch of ripened cocoons, you can really win something.
But not too much, actually, because the maximum payout of the slot for a full house of butterflies is only x120 for one spin.
This slot will be perfect for wagering the bonus!
3. Wins Of Fortune from Quickspin.
At first glance it may seem that this slot is similar to the famous slot from the company Netent, but it's not!
This time Swedish developer decided to please us with a slightly unusual slot in terms of the mechanics.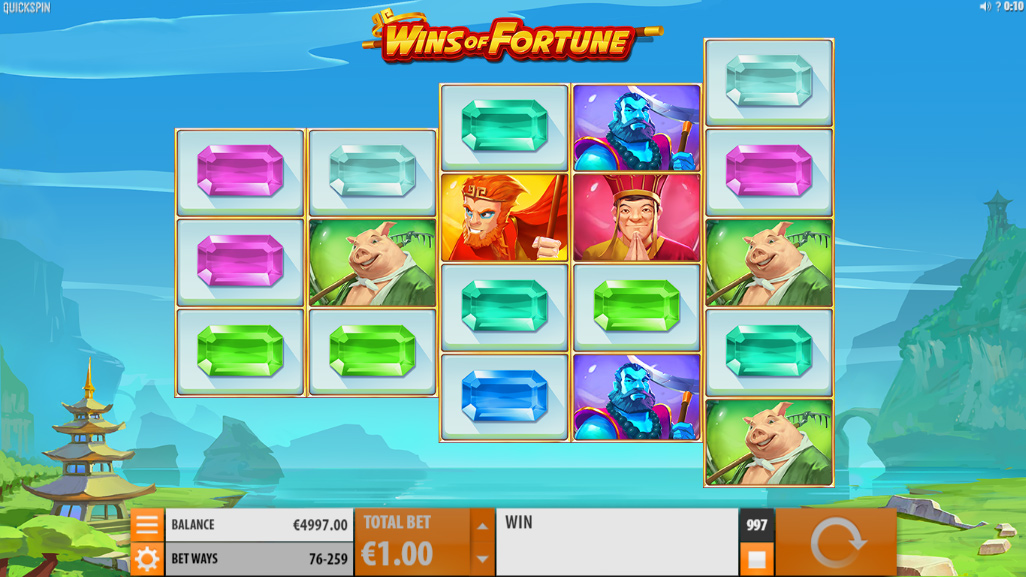 So, first we have five incomplete reels, with 76 lines total. With each effective spin the reels move to the left, thereby opening up more and more space, and, as a result, more and more lines.
It's made like this – when at the first spin you got a match, the reels begin to move. Another match? They move again!
The undoubted advantage is that this movement is a respin and you don't have to pay for it!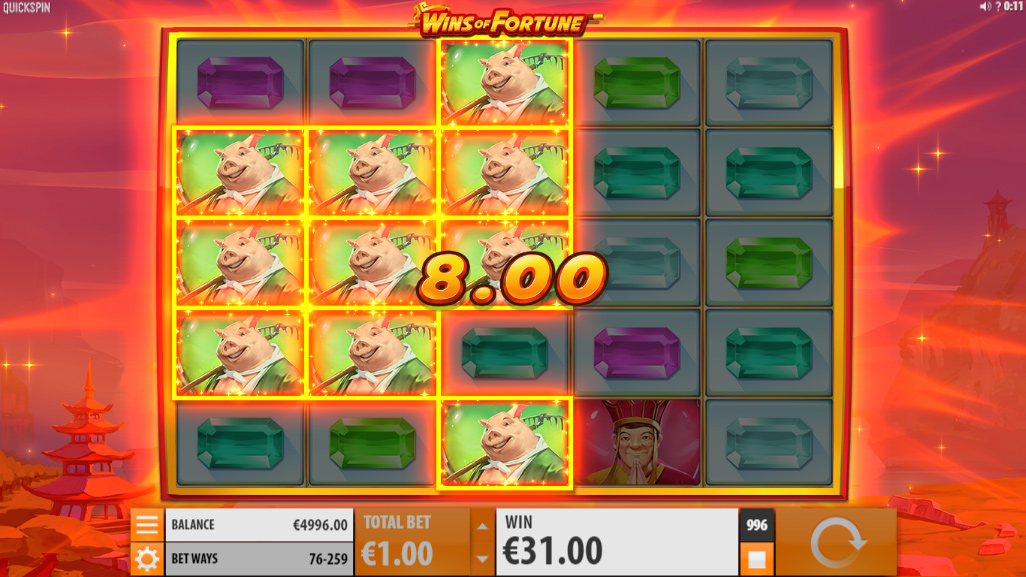 If you are lucky enough to make 5 effective spins (though, usually you're finished right on the fifth one)… bonus will be launched? Hell no! You'll see the super-rotation! Sounds good! On this super-rotation you will get a win on the reels once again, if nothing else will cling. In general, the winnings continue as long as something clings to something on the lines.
The maximum payout for one spin is x647.5, this is a full house of the most expensive symbol at fully open reels on 259 lines.
Conclusion – Quickspin at its best.
4. Spina Colada from Yggdrasil.
The ocean, beach, cocktails and girls! After several "strange" slots, Yggdrasil decided to release some bright and summery one! In the game you need to collect cocktails or ingredients to them. At any match the respin is launched, and you don't have to pay for it.
In addition, there are wild symbols, random multiplication, as well as four menu functions for spin: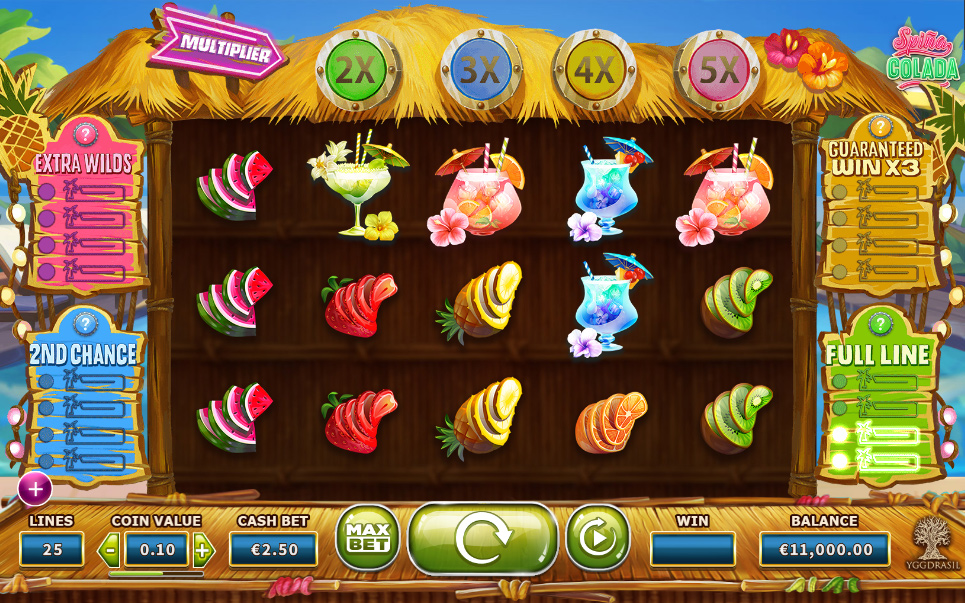 Blue "Second Chance". When you get this kind of stuff, if there were no matches, such function will give you another free spin to collect the match you failed before.
Green "Full line". In this mode, at the beginning of the spin you will automatically get the full line of symbols, and then you will use respins.
Pink "Extra wilde". In this mode, a few additional wilds will be added to the spin, which will increase your chance of winning.
Yellow "Warranty + x3". In this mode, the slot will necessarily give out some kind of win plus multiply it by x3 (it will spin the reels until it hitch some symbol).
And now the most interesting stuff! After collecting 4 items in the same menu, you will get a mini-bonus activated on four free spins with the same add-ons!
In general, the slot is pretty cool, but really does not give you anything at all. Moreover, with one spin you can collect only one symbol and usually it's the cheapest. However, the maximum payout per spin can reach x1000 with a full house of the most expensive symbol plus x5 multiplication. Without multiplication the full house of the most expensive symbol will give x200